Day 1 KUALA LUMPUR – NARITA

Overnight Flight to Tokyo
Arrival in Narita, immigration clearance
Transfer to Tokyo
Visit Imperial Palace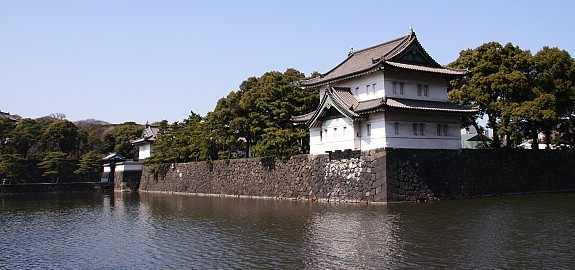 Moats and walls surround the imperial palace
The current Imperial Palace (皇居, Kōkyo) is located on the former site of
Edo
Castle, a large park area surrounded by moats and massive stone walls in the center of
Tokyo
, a short walk from
Tokyo Station
. It is the residence of Japan's
Imperial Family
.

Edo
Castle used to be the seat of the
Tokugawa
shogun
who ruled
Japan
from
1603 until 1867
. In
1868
, the shogunate was overthrown, and the country's capital and Imperial Residence were moved from
Kyoto
to
Tokyo
. In 1888 construction of a new Imperial Palace was completed. The palace was once destroyed during
World War Two
, and rebuilt in the same style, afterwards.
Visit Asakusa Kannon Temple and Shop at
Nakamise Shopping Street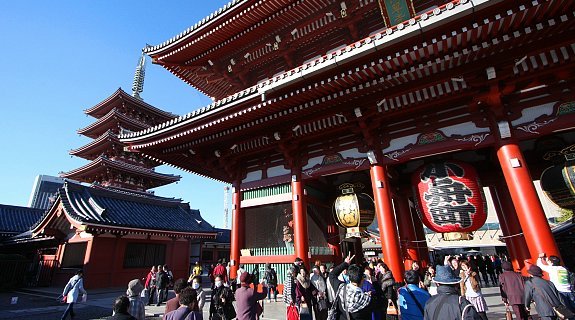 Sensoji (浅草寺, Sensōji, also known as Asakusa Kannon Temple) is a Buddhist
temple
located in
Asakusa
. It is one of
Tokyo
's most colorful and popular temples.
The legend says that in the year
628
, two brothers fished a statue of
Kannon
, the goddess of mercy, out of the Sumida River, and even though they put the statue back into the river, it always returned to them. Consequently, Sensoji was built nearby for the goddess of Kannon. The
temple
was completed in 645, making it
Tokyo
's oldest temple.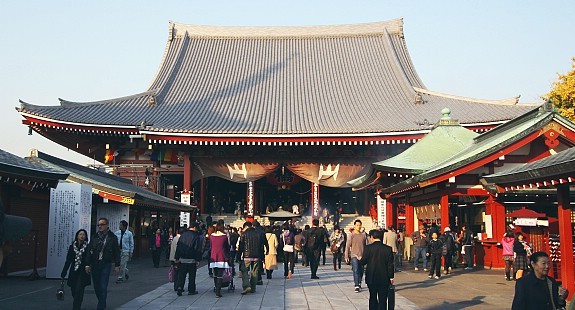 The freshly renovated main hall in December 2010
When approaching the temple, visitors first enter through the Kaminarimon (Thunder Gate), the outer gate of Sensoji Temple and the symbol of
Asakusa
and the entire city of
Tokyo
.
A shopping street of over 200 meters, called Nakamise, leads from the outer gate to the temple's second gate, the Hozomon. Alongside typical Japanese souvenirs such as
yukata
and folding fans, various traditional local snacks from the
Asakusa
area are sold along the Nakamise. The shopping street has a history of several centuries.
| | | |
| --- | --- | --- |
| Osenbei (rice crackers) | Folding Fans | Yukata and T-shirts |
from left to right: Kibidango - Skewered kibi-balls covered with soybean powder; top: Agemanju - deep fried manju (soft cake with red bean paste filling); bottom: Ningyoyaki - small cake with red bean paste filling; Kibidango Shop
Lunch
Check-in hotel at Tokyo
Shop at Shinjuku
Shinjuku (新宿) is one of the 23 city wards of
Tokyo
, but the name commonly refers to just the large entertainment, business and shopping area around Shinjuku Station.
Shinjuku Station is the world's busiest
railway
station, handling more than two million passengers every day. It is served by about a dozen railway and subway lines, including the
JR Yamanote Line
. Shinjuku is also one of Tokyo's major stops for long-distance
highway buses
and
city buses
.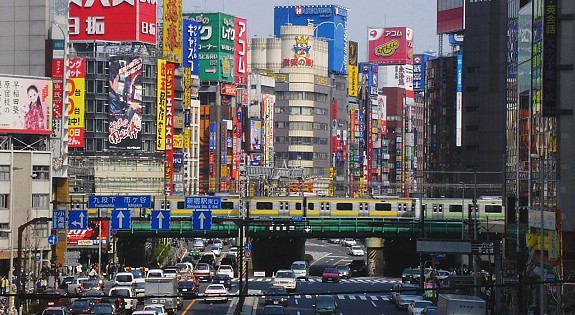 West of the station is Shinjuku's
skyscraper district
, home to many of
Tokyo
's tallest buildings, including several premier hotels and the twin towers of the
Metropolitan Government Office
, whose observation decks are open to the public for free.
Dinner
Day 3 TOKYO – YAMANASHI – HAKONE – GOTEMBA
Visit Oshino Hakkai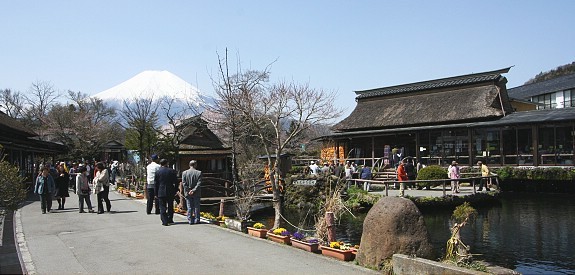 Oshino Hakkai is a touristy set of eight ponds in Oshino, a small village in the
Fuji Five Lake
region, located between
Lake Kawaguchiko
and
Lake Yamanakako
on the site of a former sixth lake that dried out several hundred years ago. The eight ponds are fed by snow melt from the slopes of nearby
Mount Fuji
that filters down the mountain through porous layers of lava for over 80 years, resulting in very clear water that is revered by the locals.
Next to one pond visitors can drink the cool water straight from the source. The ponds are quite deep and have interesting freshwater plant life and large fish that make a visit to the ponds almost like visiting an aquarium. Although the ponds have been developed into tourist attractions and can become quite crowded with visitors, they have a pleasant atmosphere as long as you do not expect untouched nature.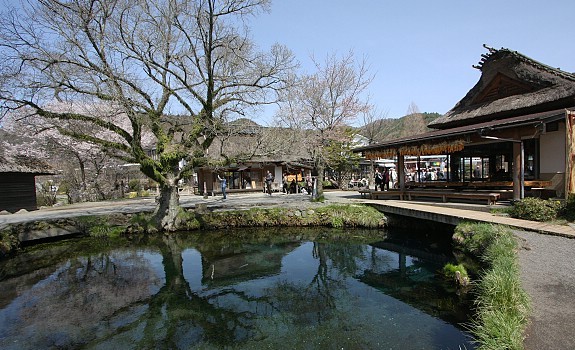 You will find many restaurants, souvenir shops and food vendors around the ponds which sell vegetables, sweets, pickles, crafts and other local products. Some operate small outdoor grills to attract shoppers with the alluring smells of roasted sweet potato and toasted rice crackers (osenbei).
Transfer to Hakone
Lunch
Visit Owakudani Hell Valley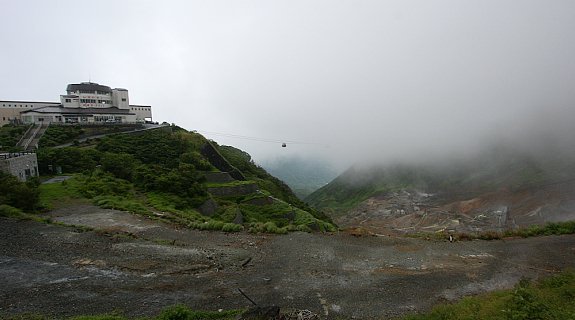 Owakudani (大涌谷, Ōwakudani) is the area around a crater created during the last eruption of Mount Hakone some 3000 years ago. Today, much of the area is an active volcanic zone where sulfurous fumes, hot springs and hot rivers can be experienced. Additionally, Owakudani has good views of
Mount Fuji
on clear days.
A short walking trail (about ten minutes one way) leads from the ropeway station into the volcanic zone to a number of steam vents and bubbling pools. Here you can purchase eggs, cooked in the naturally hot water, whose shells are blackened by the sulfur and which are said to prolong one's life by seven years.
For the more adventurous, a hiking trail leads from the ropeway station to the peak of Mount Kamiyama and continues on to Mount Komagatake from where you can catch the Komagatake Ropeway down to
Lake Ashi
. The hike takes about 2 hours one way and can be rocky or slippery as well as quite windy. Proper hiking shoes and rain gear are recommended.
Alternatively, about 30 minutes past the peak of Mount Kamiyama a trail splits off down towards
Lake Ashi
. It leads down the mountain and along the lakeshore, ending at Kojiri not far from Togendai, from where the Hakone Ropeway connects back to Owakudani. The round trip takes about 4.5 hours.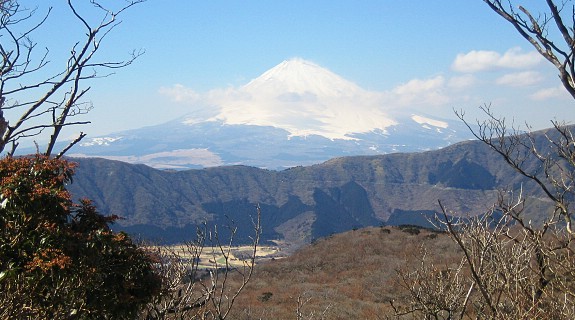 View of Mount Fuji from Owakudani
Transfer to Gotemba
Shop at Gotemba Premium Outlet Mall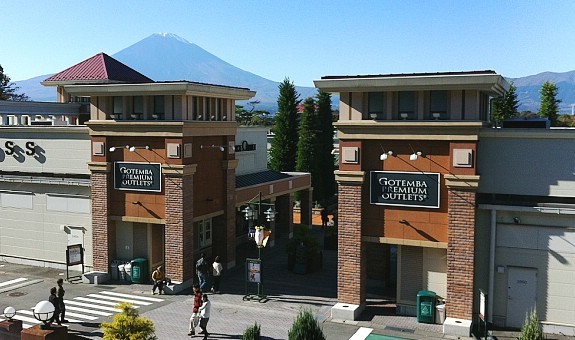 The Gotemba Premium Outlets are Japan's most popular outlet mall, located in Gotemba City at the base of
Mount Fuji
, not far from
Hakone
. The mall features over 200 stores along with a number of restaurants, a food court and a 50 meter high ferris wheel.
The stores found at the Premium Outlets are the outlets of internationally known brands of fashion, sports, food, household goods and electronics, and range from everyday items to luxury goods. The prices are not ridiculously cheap, but they are better on average than what you will find at regular retail shops in Japan.
Overall it is a nice place for a day of shopping, with a lot of variety and reasonable prices. Most of the stores accept credit cards such as Visa, Mastercard, American Express and Diners.
Coin lockers
are available in two locations.
Dinner
Breakfast at hotel
Check-out from hotel at Tokyo
Shop at Ueno's Ameyoko
Ameyoko (アメ横) is a busy market street along the
Yamanote Line
tracks between Okachimachi and Ueno Stations. The name "Ameyoko" is a short form for "Ameya Yokocho" (candy store alley), as candies were traditionally sold there. Alternatively, "Ame" also stands for "America", because a lot of American products used to be available there when the street was the site of a black market in the years following
World War Two
.
Today, various products such as clothes, bags, cosmetics, fresh fish, dried food and spices are sold along Ameyoko. Opening hours and closing days depend on individual stores, but stores typically open around 10:00 and close around 19:00. Many stores remain closed on selected Wednesdays.

Tuna, sea urchin, octopus, salmon and various fish eggs for sale
Shop at Ginza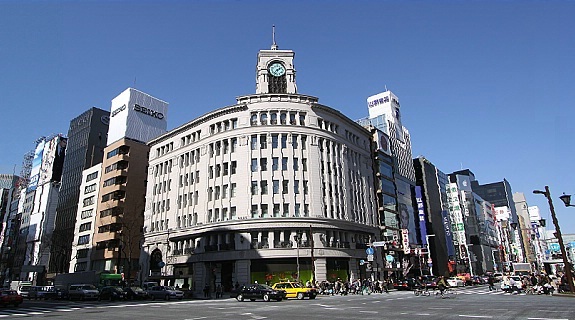 The Ginza (銀座) is
Tokyo
's most famous upmarket shopping, dining and entertainment district, featuring numerous
department stores
, boutiques, art galleries,
restaurants
, night clubs and cafes.
One square meter of land in the district's center is worth over ten million
yen
, making it one of the most expensive real estate in Japan. It is where you can find the infamous $10 cups of coffee and where virtually every leading brand name in fashion and cosmetics has a presence.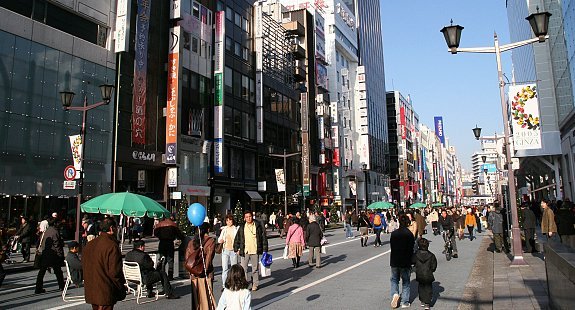 Chuo Dori street on a weekend afternoon
Transfer to Narita
Day 5 NARITA – KUALA LUMPUR
Breakfast at hotel
Check-out from hotel at Narita
Transfer to Narita Airport by Hotel
Shuttle
Arrive at Narita Airport for Check-in