Oshino Hakkai is a touristy set of eight ponds in Oshino, a small village in the Fuji Five Lake region, located between Lake Kawaguchiko and Lake Yamanakako on the site of a former sixth lake that dried out several hundred years ago. The eight ponds are fed by snow melt from the slopes of nearby Mount Fuji that filters down the mountain through porous layers of lava for over 80 years, resulting in very clear water that is revered by the locals. People have valued this water, which they call 'sacred water'.
The clear water surface reflecting Mt. Fuji appears to be veiled in an almost mystic air. Not only do these ponds boast fine-quality water, but they harmonize wonderfully with the surrounding rustic scenery, and the water of Oshino Hakkai is ranked among the best-quality waters of Japan
Next to one pond visitors can drink the cool water straight from the source. The ponds are quite deep and have interesting freshwater plant life and large fish that make a visit to the ponds almost like visiting an aquarium. Although the ponds have been developed into tourist attractions and can become quite crowded with visitors, they have a pleasant atmosphere as long as you do not expect untouched nature. .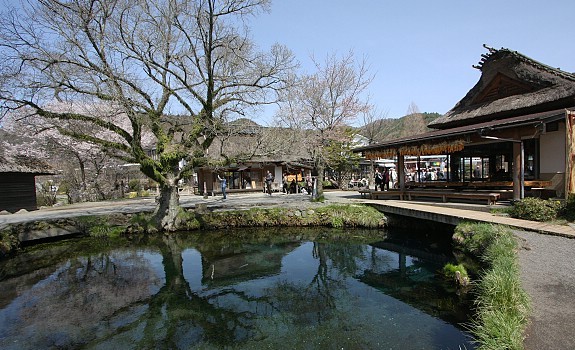 You will find many restaurants, souvenir shops and food vendors around the ponds which sell vegetables, sweets, pickles, crafts and other local products. Some operate small outdoor grills to attract shoppers with the alluring smells of roasted sweet potato and toasted rice crackers (osenbei)
This is actually one of my favourite pictures... I am wearing the Yukata my Japanese friend Misae gave me in a beautiful traditional village with the breathtakingly beautiful mount Fuji behind me....
Another gorgeous picture with Mount Fuji behind....Not everyone is lucky to see Mount Fuji. Sometimes the sky gets so cloudy or foggy and Mount Fuji simply 'disappears'...
Having said that... towards the end of our trip here at the Oshino Hakkai, Mount Fuji did 'disappear' from our view....
Another place to get your refreshing water from Mount Fuji...
This pool is supposedly 8 metres deep... but look at how clear the water is....!!!!!!
drinking water from the source... the water comes out from 3 -4 dragon taps .....
Gingko Biloba.... me thinks!!!!
Pretty bonsais.... and plants....
gorgeous flowers....decorate the area.....