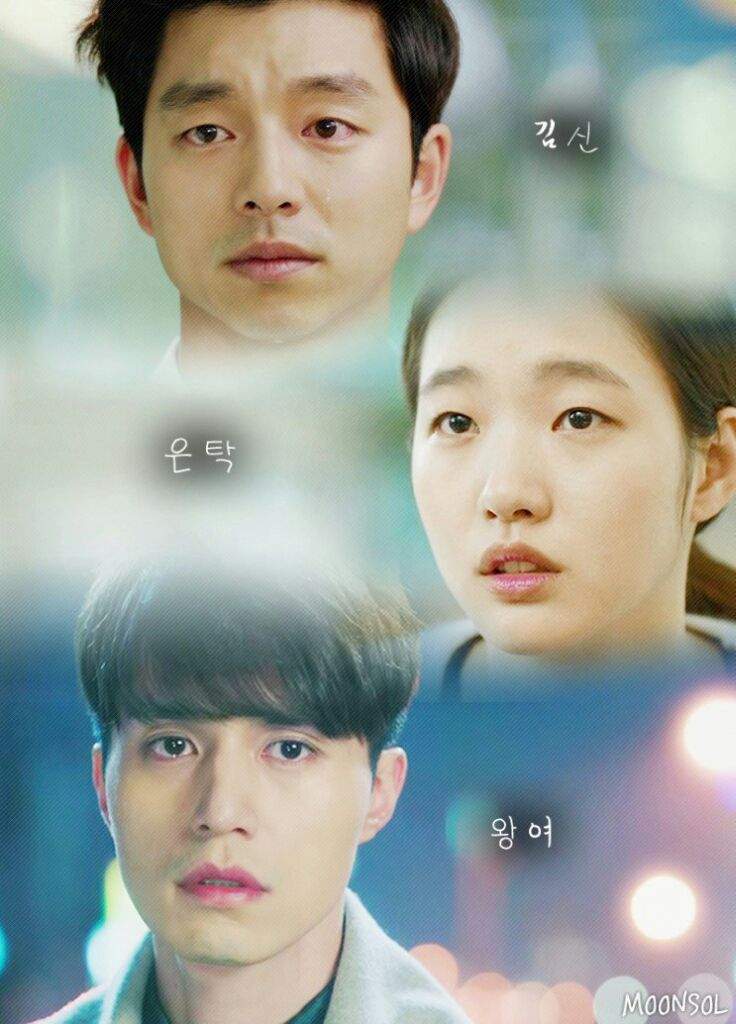 In ancient times, Kim Shin (
Gong Yoo
) is an unbeatable general in wars and married to a princess, but the young King (
Kim Min-Jae
) is jealous of Kim Shin and kills him and all of his family members.
Somehow Kim Shin becomes Dokkaebi (Goblin), possessing an immortal life who also protects souls. He realizes that he is cursed when he watches his love ones and people close to him die one by one....
A few year before present day, Kim Shin has waited 900 years for a human bride to end his immortal life. One night, he saves a dying pregnant woman (
Park Hee-Von
) who is destined to die.
Meanwhile, the Grim Reaper (
Lee Dong-Wook
) is unable to find the dead pregnant woman.
The woman lives on and gives birth to a baby girl named Ji Eun-Tak (later played by
Kim Go-Eun
).
9 years later, Ji Eun-Tak lives with her mother and is able to see ghosts. One night, her mother dies, but before she dies she pleads with an old lady selling vegetables to save her child... this old lady who is a mysterious woman who can turn herself young is
Sam Shin
(Lee El
)
, a Goddess of Birth, who
saves the young Ji Eun- Tak her from the Grim Reaper.
In the present day, Ji Eun-Tak is a high school student. She can see ghosts and hear them whisper of "Dokkaebi's bride."
She now lives with her aunt's family, but she is ill-treated by them. On her birthday, Ji Eun-Tak sits by the sea with a lighted birthday cake. At that time, Kim Shin suddenly appears in front of her.
Kim Shin does not know why, but he can hear her voice and appears in front of her against his will and this happens everytime Ji Eun-Tak lights up a flame and blows it out....
Ji Eun-Tak can also travel through space with Kim Shin, cementing her claims that she could be the Goblin's bride..
Despite her pitiful circumstances and having to face a teacher who tries to put her down,
Ji Eun-Tak
remains optimistic, ends up falling in love with Kim Shin.
Kim Shin's assistant somehow rents his house out to none other then the Grim Reaper and the two supernatural beings find themselves stuck to each other against their will.... with a love hate relationship that will tickle you....
Kim Shin then tells her to get a job at a chicken shop... and she does. Her boss is
Kim Sun the owner of the chicken shop, who is a beautiful woman also encountering hardship in her who somehow meets the Reaper and falls in love with him...
By the way, the Reaper has a problem since he is amnesiac and cannot remember his past....
I love the story.. and am so totally hooked on this... with the two hot supernatural beings... Team Goblin or Team Reaper.... I am sooooo on both teams....hahahaah...
Watch in on iFlix or on Astro
Oh!K
(394
Astro
) at 7pm every Saturday and Sunday