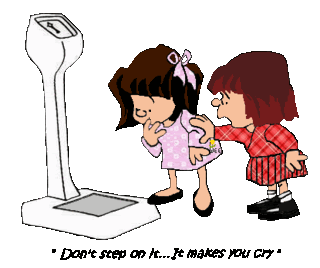 The above pictures definitely describes me... Ever since I gave birth to my 3rd child (Anne, who is now 12), I suddenly developed an aversion for weighing scales.... because every time I get on one, I feel like crying...
And so is the sinking and depressing feeling I get when visiting relatives or friends who take it upon themselves to tell you, "Wah, you've gotten fat", "Wah, sihat sekarang, yer" and all those sentences you really wish they won't utter or even bring up....
So now you know I have been battling my weight.. and it has been a yo-yo process and quite unsuccessful....
Well, as age catches up, my metabolism rate has declined considerably, and well, I have another guilt.....
I love food... now who in Malaysia does not like food... it is because of the availability of amazing tasting food of all cultures and kinds that most Malaysians are obese... and I am one of them...
And the worse thing is Malaysian food is sooooo rich and laden with sugar, salt, etc to make it taste so good......
So when I heard of the mAi Dark Mocha flavored specialty coffee beverage , I was really keen to try it out....
This is actually the first time I heard of a slimming coffee drink... or at least that I can recall... and I was curious to see how effective it was...
The 4 main Premium Ingredient and Benefits:
Belgian Dark Cocoa

: Did you know dark cocoa can actually deliver beauty benefits. Flavonoids, the naturally occurring plant substance in cocoa improves blood flow to our skin, improving our skin hydration and complexion against sun- induced damage. Cocoa helps in reducing the stress hormones, resulting less collagen breakdown in the skin lowering the wrinkles. It can also help in lessening your cravings for salty, fatty and sweet foods. Reduction in food cravings prevents you from over eating and this means food that promote feelings of fullness can be important for your weight loss diet plan and make you eat less in your next meal.
Brindle berry (Garcinia cambogia)

: The hydroxycitric acid in Brindle berry helps in weight loss. It increases our body's lipid oxidation which helps with the breakdown of fatty acids in the body. It can also lower down appetite so you have a feeling of fullness and you are able to get over your cravings much easier. The brindle berry also helps increasing the metabolic rate of the body. It allows the body to burn fat faster. It uses the process called thermogenesis to inhibit lipid synthesis and burn fat to help achieve reduced weight in lesser time as well as increasing your energy level so that the calories that you consume would produce glycogen to keep the energy in your body high.
Premium Arabic Beans

: These coffee beans are said to contain a higher amount chlorogenic thought to affect how the body handles blood sugar and metabolism.
Safflower Oil Extract (CLA)

: The Safflower Oil Extract is quite heaven sent

for those people who are trying their best to lose weight. Omega-6 fatty acids, of which safflower oil is rich, helps the body to burn fat, rather than store it. Safflower oil is used by people suffering from obesity to lose weight without having to make too many changes to their diet...
The packaging is quite simple and straight to the point... The ingredients in this are: Instant Coffee Powder, Cocoa Powder, Skim Milk, Conjugated Linoleic Acids, Green Coffee Bean Extract, Garcinia Cambogia Extract, Stevia Extract, FOS.....
The opening of the mAi Dark Mocha

flavored specialty coffee beverage

box is at the bottom part of the box. I for one find it very convenient...
There are 10 sachets in the box. You are advised to still eat your meals on time and well, eat proper food lah. However, it would be good to cut down your carbohydrates, sugar and meat intake and try your best to exercise at least 15-20 minutes a day for a faster effect or do as I do, do lots of brisk walking....
You shouldn't skip your meals... because if you do, it can backfire on you and cause you to eat more! DO NOT SKIP YOUR MEALS!
It is recommended that we consume the mAi Dark Mocha drink at least 30 minutes before breakfast!! Or at very least drink it before 1pm or 2pm. According to the person who recommended it to me, she said that when you just started, you might feel full after consuming it and she was right... I did not feel hungry at all, and with that, I did not think of food all the time.. LOL!! But after a few days, things got back to normal
How to consume? Simple... just tear open one of the sachets and pour in into your favourite mug...
Then add in 150ml of hot water or warm water (which is my preference) ....and stir well until all is dissolved...
This would be how it looks like.....If you are using a big mug maybe you might like to pour the water to about 3/4 full....
Hmmm... taste wise, the mAi Dark Mocha flavored specialty coffee beverage is as it is suppose to be, mocha flavored, and very yummy.....I have yet to taste a more yummy slimming product... This is one of the best... It taste like my favorite mocha latte drink from Coffee Bean (CBTL) LOL
Usually, there are a lot of slimming supplements/ drinks that taste awful and I hate drinking them as they make me feel like throwing up , but I swear I love this loads!!!!
mAi Dark Mocha

flavored specialty coffee beverage

allows you to enjoy your favourite dishes but enables you to still achieve that nice body figure in 8 effortless ways:
Regulating your appetite

Improving your body metabolism rate

Burning stubborn fat

– dang I know I have plenty of these over the years….

Increase body muscle mass

Elevate body energy

– I sure need this….

Prevent fat reformation

– doesn't that sound amazing….

Target lower body especially around the abdominal area

….

And the best of all…. There is

Zero by-effects on our body
Check out what is in store which you can achieve from the 1st to the 4th week......Amazing, don't you think???!!
This was me on New Year's Day when I just started on my mAi Dark Mocha flavored specialty coffee beverage....
To tell you the truth, I hate checking my weight on the weighing machine as I find it embarassing and somewhat humiliating... but I definitely noticed some slightly changes in my stomach area which is definitely much smaller then when I began....
And this is me, a couple of days ago, one week into drinking the mAi Dark Mocha flavored specialty coffee beverage... I think I really look slimmer.... heheeh..
And yes... shhh... I could not fit into my size 29 jeans (or rather, I could not zip/button it up) before consuming this... but now... I can wear my old jeans again!!! Hurrahh!!!!
Anyway, for more information do check out the facebook page:
As for me, I am seriously loving this product and am going to get some more... to burn my stubborn fats... and well another plus point in this product is that it does not cause you to run to the toilet at odd times because it does not cause diarrhea at all....
Note: gifs taken from google for decorative purposes and mAi pictures credit to mAi FB page