When think of Terengganu, my mind is filled with exotic islands in the sun (Pulau Redang, Pulau Perhentian and the others) and all those gorgeous unpolluted beaches that stretches as far as 244km!!!
Then it would be of those amazing rainforests which have been around for over millions of years, gorgeous scenic evergreen forests that also have beautiful waterfalls splashing into clear pools, huge fascinating lakes and soon....
And hmm... keropok lekor, nasi dagang, otak otak, lompat tikam, ayam percik... (sorry, there are dozens more of yummy Terengganu cuisines but I am only naming some of my own personal favorites...)
And of course... when you are there, you cannot miss those amazing handicrafts of Terengganu, woodcarvings that make your jaw drop in awe, amazingly fine songket, beautiful brassware, kite making and those breathtakingly beautiful batik.....(again, being my blog and being selfish me, I am naming what I like... hahahah)
Terengganu really has all the charms and splendour partly derived from other states in Malaysia. But yet, despite the rapid development and modernisation, time has seemingly stood still as the state retains all the rustic and idyllic charms so different from other tourist destination.
So, as you can see, Terengganu does hold a special place in my heart and thoughts, and so when I heard that they were doing a Pre-Launch of Visit Terengganu Year 2017, I was definitely thrilled and excited... I just hope and wanted to be a part of visiting and helping others know more about this extremely fascinating state....
Anyway, that found me at the posh banquet hall of the lovely Ritz Carlton early Tuesday morning, as the state unveiled their plans for the Visit Terengganu Year 2017...
Did you know that the Terengganu Gamelan has survived as a result of the love and effort from the royal couple of Terengganu, their royal highnesses the Sultan Sulaiman Badrul Alam Syah and Tengku Ampuan Mariam who brought the gamelan into its glory now...
Gamelan is now enjoyed by almost everyone beyond just the royal circle...
Yours truly was of course, part of the excited members of the media who could not resist taking pictures when the Menteri Besar (Chief Minister) of Terengganu, YAB Dato' Seri Haji Ahmad Razif bin Abdul Rahman arrived and greeted his peers and guests...
Then we got fascinated with the opening performance by some dancers from Terengganu....
YB Dato' Haji Mohd Jidin bin Shafee, the Terengganu State Committee Chairman for Tourism and Culture gave his speech.
Revealing the wonders of Terengganu and the theme " There's More to Terengganu Than What You Know", YAB Dato Razif said that Terengganu will be stepping up its marketing activities to attract various target segments. These activities will be designed to boost the average tourist expenditure as well as the duration of tourists' stay in the state. Dato Razif is confident that the target of 6.5 million tourists over the next 5 years to the lovely state of Terengganu can be achieved...
Malaysia remains a preferred destination and is one of the most attractive regional attractions for travelers. From the many scenic islands and pristine beaches, to the rich cultural history and delightful cuisine, there are just so many hidden treasures in Terengganu yet to be discovered....
In just 2015 , Terengganu has welcomed nearly 5 million visitors of which, 16% were foreigners. The Visit Terengganu Year 2017 campaign will be including a strategy to reach out to new niche markets outside the traditional targets especially travelers who have higher spending power and who might stay longer in a single destination...
Ulek Serkap Dance / Balai Dance
Presently, Terengganu has over 300 hotels and homestays dotted across itsstate, catering to various categories of travelers and visitors. Terengganu offers economic opportunities as well as welcomes investment interests in support of the tourism industry across the state...
Getting serenaded by the lovely Anis Suraya, a native of the lovely state of Terengganu...
For now, allow me to interest you with some of the unique destinations around Terengganu has to offer...
Kuala Terengganu
: Kuala Terengganu is the capital of Terengganu. Despite being fast changing into a modern city, the charm of the old world is still there, neither lost nor forgotten.
Terengganu State Mosque: The mosque was built on the estuary of Terengganu river and its intricate design gives viewers the impression that the mosque is actually floating on water. This place of worship is beautifully litted up at night and presents a breathtaking sight.
Terengganu State Museum: Situated on a hill in Jalan Cherong Lanjut, the Terengganu State Museum has an impressive collection of nineteenth-century Chinese wares, showing a clear Islamic influence, prehistoric tools from the Stone Age, and ancient manuscripts of Islamic calligraphy.
Marang: Marang is a picturesque fishing village with tall swaying coconut trees, lovely fresh breeze, a beautiful lagoon, and a fleet of fish trawlers. Marang will charm you with its natural beauty and simple ambience.
Suterasemai Centre: Just about 6 km from Kuala Terengganu, the Suterasemai Centre is Malaysia's pioneer silk weaving center where visitors can witness different stages of silk manufacturing.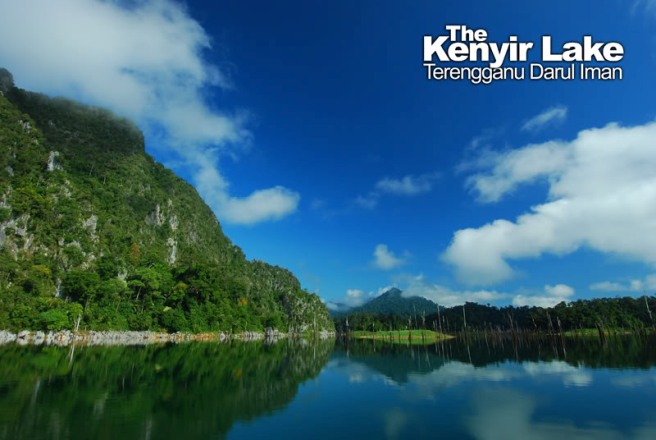 Kenyir Lake: The Kenyir Lake is the largest man-made lake in Southeast Asia. It is located in the interior of Terengganu and is the catchment area of Malaysia's largest rock-filled hydroelectric dam. The area around the lake is ideal for jungle trekking and nature walks.
Setiu Wetlands: The Setiu Wetlands is about 23,000 ha. It comprises of riparian forests lining the riverbanks, freshwater melaleuca swamps, peat swamps, mangroves, brackish water lagoons with vegetated sand islands, seagrass beds as well as sandy beaches...
What makes this place special is that it is the only wetland in Malaysia with nine interconnected ecosystems- the sea, beach, mudflats, lagoon, estuary, river, islands, coastal forest and mangrove forest..isn't it amazing...
Sekayu Recreational Forest, Kuala Berang: The Sekayu Recreational Forest is about an hour's drive from Kuala Terengganu, it is a favorite retreat for visitors and locals alike, where the magnificent seven tier waterfall is surrounded an amazing natural landscape of lush jungle-clad hills, a fruit orchard, a mini zoo, a bird park, a flower garden, and numerous species of flora and fauna.
Rantau Abang: Up until the late 80's, the beach at Rantau Abang was made famous being the venue for the annual migration of huge leatherback turtles. Visitors could lay in wait quietly from midnight to dawn to watch giant leatherback turtles laying eggs.
However due to global contributing factors and rampant coastal development, the turtle landings has since dwindled. Turtle hatchery sites have been set up as a conservation effort to ensure the survival of these endangered species....
Redang Island: Situated about 50km from Terengganu, Redang Island is a diver's paradise. The island is well known for its pristine beaches and spectacular marine life and I swear by it...
Perhentian Islands: Just about 21km off the coast of Terengganu, the Perhentian Islands are truly anyone's idea of a tropical paradise. Both the Perhentian Besar Island and the Perhentian Kecil Islands are covered by untouched jungle and is fringed by powdery white sandy beaches , windswept palms and surrounded by azure or sapphire blue waters and this is stopover for migratory birds as well....
The underwater seascape is lush with a wide variety of soft and hard corals, and you will be awestruck by the diverse marine life here....and if you are lucky... you will spot a sea turtle or two....
Bukit Keluang: Bukit Keluang is about 140 km north of Kuala Terengganu. The place has a spectacular beach and is a lovely place for swimming, snorkeling and wind surfing.
Personally, I know there are still soooo many things in Terengganu I want to see and do and I hope for the opportunity to do it soon.....and of course, share it with you all....
pictures of Terengganu has all been sourced from Google.com and credit belong to their respective owners. I am just using it for decorative purposes here....