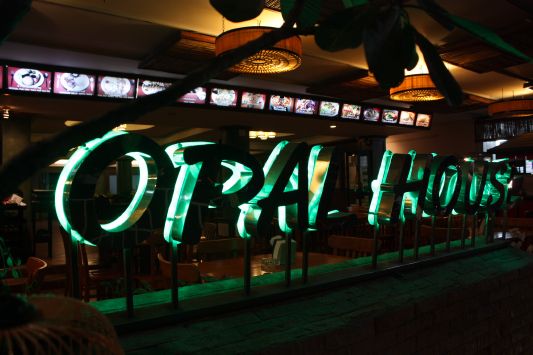 When I was in Pattaya, I had really good Thai food along the Jomtien Beach Road.. they were so yummy and delicious I really loved it there...
So I am here to share with you my discovery... and should I head back to Pattaya again, I definitely will be back there for more of this yummy food...
The restaurant I am talking about is the Opal House Restaurant. It is on the ground floor of the Opal House which is a budget hotel.
Located on Soi 7, Jomtien Beach Road, Opal House Hotel and Restaurant is right across the street from the pristine Jomtien Beach.
U-Tapao-Rayong-Pattaya International Airport is around 45- 50 minutes drive away. Airport transfers are available at a charge and can be arranged upon request.
Bright and airy, all rooms at the property are designed to have simple interiors and basic amenities, including air conditioning, refrigerator, cable TV, hot/cold shower and premium toiletries including a charming small balcony. And, yes, there is complimentary WiFi to get connected on.....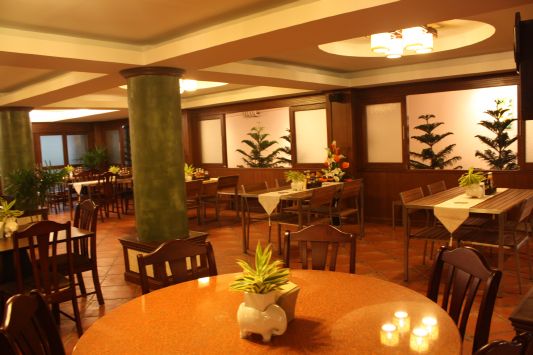 Anyway, I am talking about the restaurant here...

You can start the day with a sweet and savoury breakfast served at the Opal House Restaurant. For meals, the restaurant serves delectable Thai and a selection of famous international dishes...
You can practically enjoy your meals with the scent of sea breeze and the crash of the waves against the beach, since the beach is just across the road.
And well, for me, when you are in Thailand, you really should indulge or even gorge yourself with those amazing Thai food....
And believe me when I say Opal House Restaurant here serves up very yummy and unforgettable Thai dishes...and the ambience here is lovely.. I loved the decor of the restaurant, it was very clean, and charming...
So we were there because AirAsia , AirAsia Go and AirAsia Bloggers Community had picked the few of us to go to Pattaya as the Beach Specialists, and I bet every one knows the best place to enjoy a nice seafood meal is of course, near the beach...
Thai Milk Tea
We ordered quite a few drinks... from Thai Milk Tea, Thai Coconut and Mineral Water... The Thai Coconut was of course very refreshing and fragrant...
Tom Yam Kung (250 bahts)
The first dish that came was our Tom Yam Kung.... and I immediately fell in love with it... it was just perfect the way a good Tom Yam soup should be, and Opal House Restaurant is very generous with its serving. There was at least 10 prawns and a helping of oyster mushrooms in my bowl of soup!!! If I were to order a bowl of Tom Yam back in Malaysia, I probably get 2-5 prawns in one big bowl...
Spicy Green Papaya Salad (70 bahts)
The Som Tam or Spicy Green Papaya Salad was fresh and crunchy to the taste and also very light and refreshing...
Steamed Mussels (100 bahts)
The Steamed Mussels looked pale but when eaten, I loved the burst of flavors in my mouth.... it was perfectly lightly salted and the flesh was just juicy and fresh...or is it fresh and juicy... hahaha
Steamed Squid with Lemonade (150 bahts)
The Steamed Squid with Lemonade was just as good.. I liked how the tangy lemon added flavor to the dish. It was spicy and soury (but not over sour) at the same time...and fragrant with all the herbs added...
Steamed Seabass with Lemonade (360 bahts)
My favourite dish has to be the Steamed Seabass with Lemonade... it is really soooo yummy, light on the palate and I cannot get enough of it.... Best thing of all, Opal House Restaurant serves the fish with a bowl of extra gravy... so you can add on the gravy when you have finished the one in the plate...
Like haven't we always wished there was more to those steamed fish gravy...I especially love my steamed fish soaked in its gravy...huhuhu... ok, enough of gravies...this woman is gravy mad...
Salted Roast Prawns in Casserole (200 bahts)
The Salted Roast Prawns in Casserole was creamy and rich and it was definitely yummy. However, the prawns in Thailand here seem to have a bigger head and smaller body... and I am not one of those who enjoy prawn heads, so I got to eat just the smaller body.
I am sure this would be blissful for those who enjoy sucking on prawn heads...
This restaurant is not HALAL but we ate here ordering seafood and vegetables only... so for the less fussy Muslims, you can enjoy your dinner here like me too but if you are very particular over your food being HALAL , then it is not the place for you... but personally I give this restaurant two thumbs up.. and 4 1/2 stars out of 5...
OPAL Hotel & Restaurant Pattaya Thailand
Address: 75/180-183 Jomtien Beach Rd., Pattaya Banglamung Chonburi 20260
Telephone: +66(0)38-231557
AirAsia is the only airline that connects Pattaya, Thailand to Kuala Lumpur directly with 4 weekly flights, Pattaya to Singapore an
d Singapore to Kuala Lumpur daily
For your information, yours truly here is traveling using the AirAsia ASEAN Pass... and you might like to check this out...it is an amazing pass for backpackers and people who love to go for impromptu trips.
You can travel to so many places and see so much more with this amazing AirAsia ASEAN Pass....
Thank you to AirAsia Bloggers Community for selecting me as one of the winners, and to AirAsia and AirAsiaGo for flying me and arranging my hotel accomodations...
And special thanks to Jojo for helping us with transport and recommending the best food Pattaya has to offer.....