Do you have a child suffering from eczema? (according to Eczema.org) Eczema (also known as dermatitis) is a dry skin condition. It is a highly individual condition which varies from person to person and comes in many different forms. It is not contagious so you cannot catch it from someone else.
In mild cases of eczema, the skin is dry, scaly, red and itchy. In more severe cases there may be weeping, crusting and bleeding. Constant scratching causes the skin to split and bleed and also leaves it open to infection.
pic credit to kidshealth.org
Eczema affects people of all ages but is primarily seen in children. Those who "grow out" of their eczema during early childhood may see it recur again in later life.
About one in five children and one in twelve adults have eczema while eczema and contact dermatitis account for 84-90% of occupational skin disease.
Atopic eczema is a genetic condition based on the interaction between a number of genes and environmental factors. In most cases there will be a family history of either eczema or one of the other 'atopic' conditions i.e asthma or hay fever.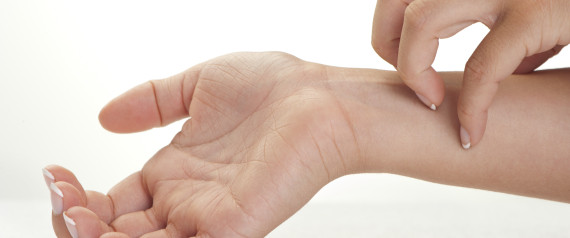 pic credit to huffingtonpost
You can also read more about my post here about Atopiclair...
I have great news for you.... If you are interested in trying out Atopiclair for free, I have one set to be given away .
In the comments section of this blog post, Just comment and tell me why you would like to try Atopiclair™ products.
You must have a
child who has Eczema. Because you are required to
try Atopiclair™ - which is an Eczema solution
Terms: If you are selected, Menarini would need a testimonial of the products and a photo of the mother and child.
*Menarini reserves the right to use the testimonial and photo given.
Testimonial and photo deadline: 26 June 2015
1 pc Atopiclair™ Lotion (120ml) worth RM78
3pcs Atopiclair™ Non-Steroidal Cream (40ml/pc) worth a total of RM100
This giveaway ends on June 5th 2015