Dare to be different, stand out from the crowd with the new and vibrant KAEON bags from Kipling's Spring 2016 collection!!!!
Yours truly was blessed to be among the few bloggers who were invited to Kipling's Spring 2016 collection showcase at TGV Chill X , as well as get treated to the movie my daughter and I wanted to watch... the Jungle Book recently!!!!
I mean, most of us Disney fans or bookworms will have seen or read about the Jungle Book right... So, what do Kipling and the Jungle Book have in common???
Back in 1986, three designer friends in Antwerp, Belgium discovered crinkled nylon fabric by chance and they creared the brand Kipling, which was named after Rudyard Kipling.
While Rudyard Kipling brings the spirit of playful monkeys to life in
Jungle Book
, Kipling brand bags create and spread happiness around the world with its bright colours and fun functionality with their iconic monkey logo as well.....
Created with the new Aires fabric, which is made up of 37% recycled PET polyester fibres and uses 90% less water during the dyeing process, all KAEON bags are durable, lightweight and also 100% water-repellent. Aires is made in a satin weave with a total fabric weight of 315gr/m2, giving it a richer hand-feel. The fabric is also super-easy to care for and clean – just wipe it with a damp cloth!
KAEON is i
nspired by women around the world who desires the Kipling casual confidence with a smarter approach, as it can brighten your everyday style with bold features, high-quality hardware, Kipling functionality and vibrant details.
The collection comes in four distinctive designs, created to complement the modern woman who has her hands full while juggling life: Ready Now, Lifesaver, Blocky Friend and On A Roll.
Ready Now:
This cross-body bag is filled with glamorous eye-catching appeal, complete with a butter-soft suede lining and rich leather details. The flap closure has a magnetic stud and a full-length zip underneath, which you can leave open for quick access or closed for security. Two diagonal front pockets and a rear zip pocket leave lots of space for knick-knacks and on-the-go essentials.
Lifesaver:
Eye-catching, cool and practical all rolled into one, the Lifesaver lives up to its name. The tote bag is large enough to fit your A4 documents or laptop, yet luxurious enough to take you from the workplace to after-office social events. With a zipped front pocket on the outside and four more pockets within the main compartment, you'll never have to rummage for your keys or phone anymore.
Blocky Friend:
Stay sophisticated during quick commutes, lunch hours and even after-dinner drinks with this bold and beautiful zippered clutch. Contrasting blocks of colour draw all the right types of attention, no matter day or night. The perfect size to carry all your essentials with ease, Blocky Friend has one extra zippered pocket nestled within the main compartment, and comes with a detachable Kipling keyring.
On A Roll:
For the modern girl with an exciting lifestyle, this medium-sized backpack is eye-catching, super-functional and bang on trend. A rolled leather top handle, adjustable straps and secure inner hook and loop fastening make for all-day comfort. This rucksack doesn't scrimp on convenience; either – two fun diagonal front zip pockets, one rear zip pocket and two inner pockets in the main compartment provide ample space for your belongings.
What makes KAEON so special?
ü
Innovative Aires material unique to Kipling
ü
Impossibly strong and water repellent
ü
Produced with smart technology
At Kipling, we believe a vibrant fashion accessory can brighten up your daily journey and even add positivity to your perspective -- whether you are heading for school, travelling or simply on the go. So make happy with Kipling KAEON today!
The KAEON collection by Kipling is currently available at all Kipling boutiques and counters. For more information, visit Kipling Malaysia's Facebook page at
www.facebook.com/KiplingMalaysia
After viewing the gorgeous collections that made most of us fall in love with, we were then ushered to the cinema hall to watch the Jungle Book....
WARNING!!!!!
Ok,
the whole story is below
since I got it from Wikipedia -https://en.wikipedia.org/wiki/The_Jungle_Book_(2016_film)... so
if you want to watch the movie, STOP here and no need to read on
... but if you want to know the story, read on...
Mowgli (Neel Sethi) is a man-cub raised by the wolf couple Raksha (Lupita Nyong'o) and Akela (Giancarlo Esposito) ever since Bagheera
(Ben Kingsley)
, the black panther found him in the jungle and brought him to them. Bagheera tries to make Mowgli to learn the ways of the wolves but Mowgli faces certain challenges, as he is human and grows slower then wolves and lags behind his wolf siblings, and Bagheera also gets annoyed with Mowgli using human tricks like tool building, instead of learning the ways of the pack.
During the dry season, all the animals in the jungle gather at the Peace Rock to drink the water that remains, as part of the Water Truce, abiding by the "Law of the Land" to not attack or devour one another.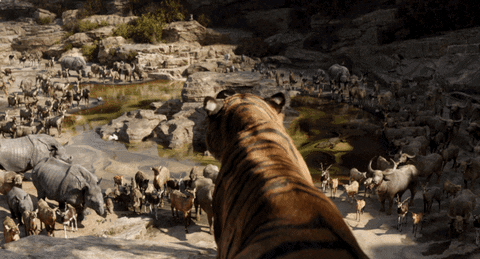 However, the peaceful gathering is disrupted when the fearsome Bengal tiger Shere Khan (Idris Elba) made his appearance. He detects Mowgli's scent amongst the crowd and threatens his life since man is not welcome in the jungle.
He has scars on his face as proof of man's cruel and destructive nature and warns that when the Water Truce ends and the Peace Rock disappears, he will come for the boy and that the wolves should decide how many of their own kind they would be willing to sacrifice to protect that man-cub aka Mowgli.
A fierce debate and argument arises amongst the members of the wolf pack as to whether or not they should keep Mowgli.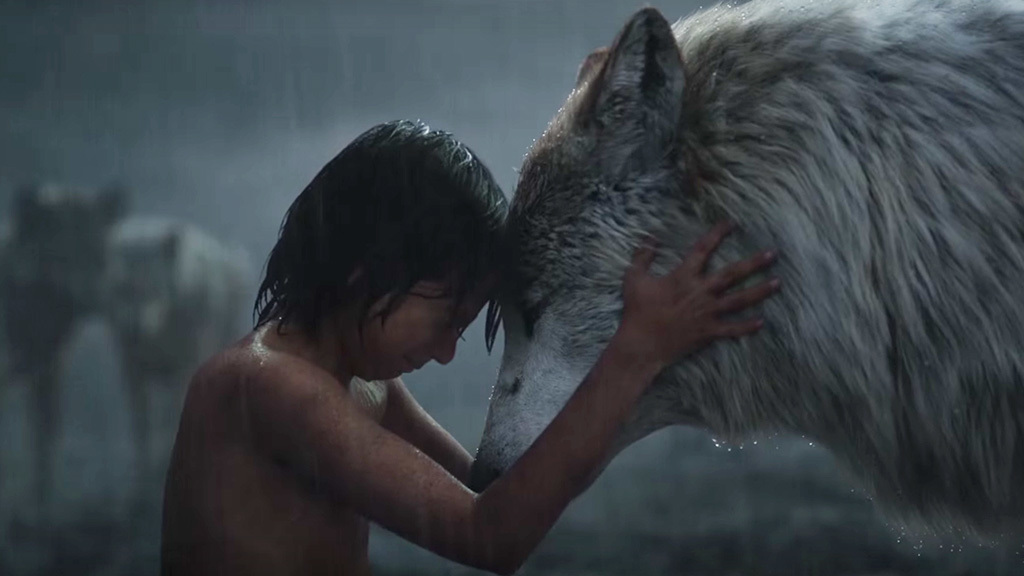 But before a general consensus is reached, Mowgli voluntarily decides to leave the jungle for the sake and safety of his pack. Bagheera volunteers to guide him to the human civilization.
However, en-route, Shere Khan ambushes them, injuring Bagheera while Mowgli manages to escape with the help of a herd of buffaloes.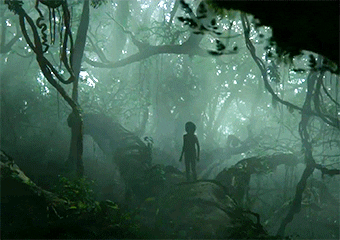 All by himself, confused and scared, Mowgli, stumbles into a thick canopy where he meets Kaa (Scarlett Johansson), an gigantic Indian python who seductively coaxes him in with promises of safety and an assurance that she knows who and what Mowgli truly is.
Through Kaa's hypnosis, Mowgli saw a vision of his father being killed by Shere Khan and of himself as an abandoned toddler found by Bagheera.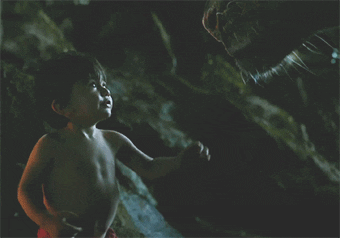 Kaa's vision also warns of the destructive power of man's "red flower", a tool that "brings warmth and light and destruction to all that it touches". Having successfully wrapped Mowgli in her coils, Kaa attempts to devour Mowgli, but he is rescued by Baloo (Bill Murray), a bear.
In exchange for saving Mowgli's life, Baloo demands that Mowgli fetch him honey which is atop a cliff, to which Mowgli unwillingly agrees. However. somehow, they form a close bond and Mowgli decides to stay with Baloo until the winter season arrives.
Meanwhile, back in the jungle, Shere Khan visits the wolf pack looking for the "man-cub" and kills Akela by throwing him off the cliff when he is told that Mowgli has left the pack. He demands that the boy be handed over to him and, confident that Mowgli will return again, appoints himself the new leader of the pack.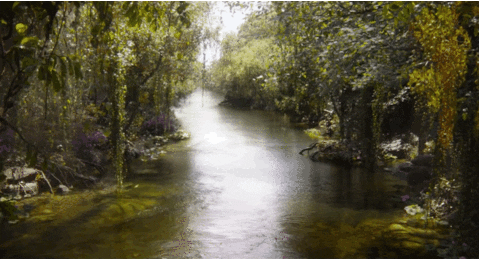 When Bagheera returns to fetch Mowgli, he discovers that Mowgli has decided to live with Baloo. Following Bagheera's instructions, Baloo unwillingly confronts Mowgli and lies to him that he never considered him a friend, hoping that Mowgli can change his mind about staying with him.
But Mowgli is suddenly kidnapped by a group of huge monkeys who take him to an ancient ruined temple and present him to King Louie (Christopher Walken), a Bornean orangutan-resembling Gigantopithecus who tries to coerce Mowgli into giving up the secret to the elusive and deadly "red flower".
Bagheera and Baloo arrive just in time to distract the monkeys and manage to hold them off while Mowgli flees into hiding.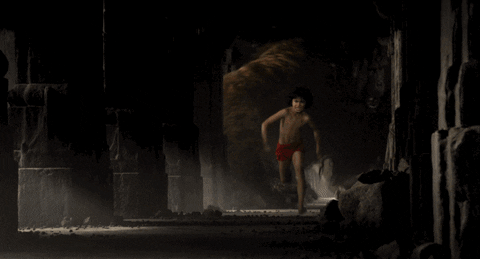 King Louie chases Mowgli through the temple, causing it to crumble on top of him, but not before he informs Mowgli of Akela's demise.
Furious of the fact that Bagheera and Baloo kept him in the dark about Akela's death, Mowgli decides to return back to the jungle and confront Shere Khan to avenge the death of his leader and put an end to his tyranny. But first, Mowgli ventures into the village where the humans live and for the first time, he sees his own kind from afar and gazes at them in amazement. He steals one of the burning torches and heads back to the jungle but accidentally starts a fire. Bagheera and Baloo follow him in close pursuit.
When the news breaks out that a man with the "red flower" is making his way into the jungle, all the animals gather at the Peace Rock. Mowgli confronts Shere Khan but sees how all the animals of the jungle cower in fear at the sight of the fire he holds. He throws away his torch into the water, allowing Shere Khan to attack him, but Bagheera, Baloo and the wolf pack manage to hold him off, thus buying Mowgli enough time to set a trap in the burning jungle. He lures Shere Khan into a dying tree with a fig branch and is able to coax him into stepping on it, causing it to break. Shere Khan falls to his death into the pit of fire below. The elephants later help to put out the fire by diverting the river.
Mama wolf Raksha then becomes the new Alpha and leads the wolf pack. Mowgli now knows that he is not a wolf but a man and decides to do things the "human way". Mowgli is last seen sitting on a tree with Bagheera and Baloo, having at last found a true home among the animals he considers his family.
It is a good movie and I feel like watching it again.... If you ask me, I will rate it 4/5 stars.....
Thanks so much to Kipling for the awesome treats...
Note: Pictures are taken from and to be credited to: http://www.cinemablend.com/ , movies.disney.com and giphy for illustrative purposes