The story begins during the World War 2 when two fighter jets crash into a beach somewhere…. One of the pilot is an American, and the other, a Japanese, and both hell bent on killing each other…. Just as the Japanese pilot is getting an upper hand and going to stab what is his enemy in the throat, something slams its gigantic fist into the ground near them and the creature appears, causing the Japanese pilot to drop his knife in shock…..
Fast forward to the early 1970's, the last American troops are finally pulling out of Da Nang, Vietnam, and while his men are all excited to be returning home to American grounds and their family, Colonel Packard (Samuel L. Jackson) is reluctant to leave, wondering bitterly what has his medals and decorations was actually of worth.
The secretive organization known as Monarch headed by Bill Randa (John Goodman) and Houston Brooks (Corey Hawkins) rushes get government approval for their top-secret mission to go to the remote Skull Island somewhere in south east Asia to investigate some findings and requested for military back up….
So just when Colonel Packard and his boys were getting ready to ship out, the order comes in for one more mission: a surveillance and land-mapping expedition, one which the Colonel accepted with relish while his men bemoaned their delay of getting home..
Randa also hires James Conrad (Tom Hiddleston), an SAS vet and skilled tracker, to guide them around the island, and Mason Weaver (Brie Larson) a tough, sexy Pulitzer winning "photojournalist" who senses the story of a lifetime… they manage to get close to Skull Island and make it through the massive storm that perpetually surrounds the island..
Like what I personally think, when you go somewhere, you really should respect the place… but in this case, these people started dropping bombs to check out seismic readings and naturally whatever which was peaceful there is gonna get damn furious…
How would you feel if someone came to your house disrespectfully and just bomb it or make a mess of it…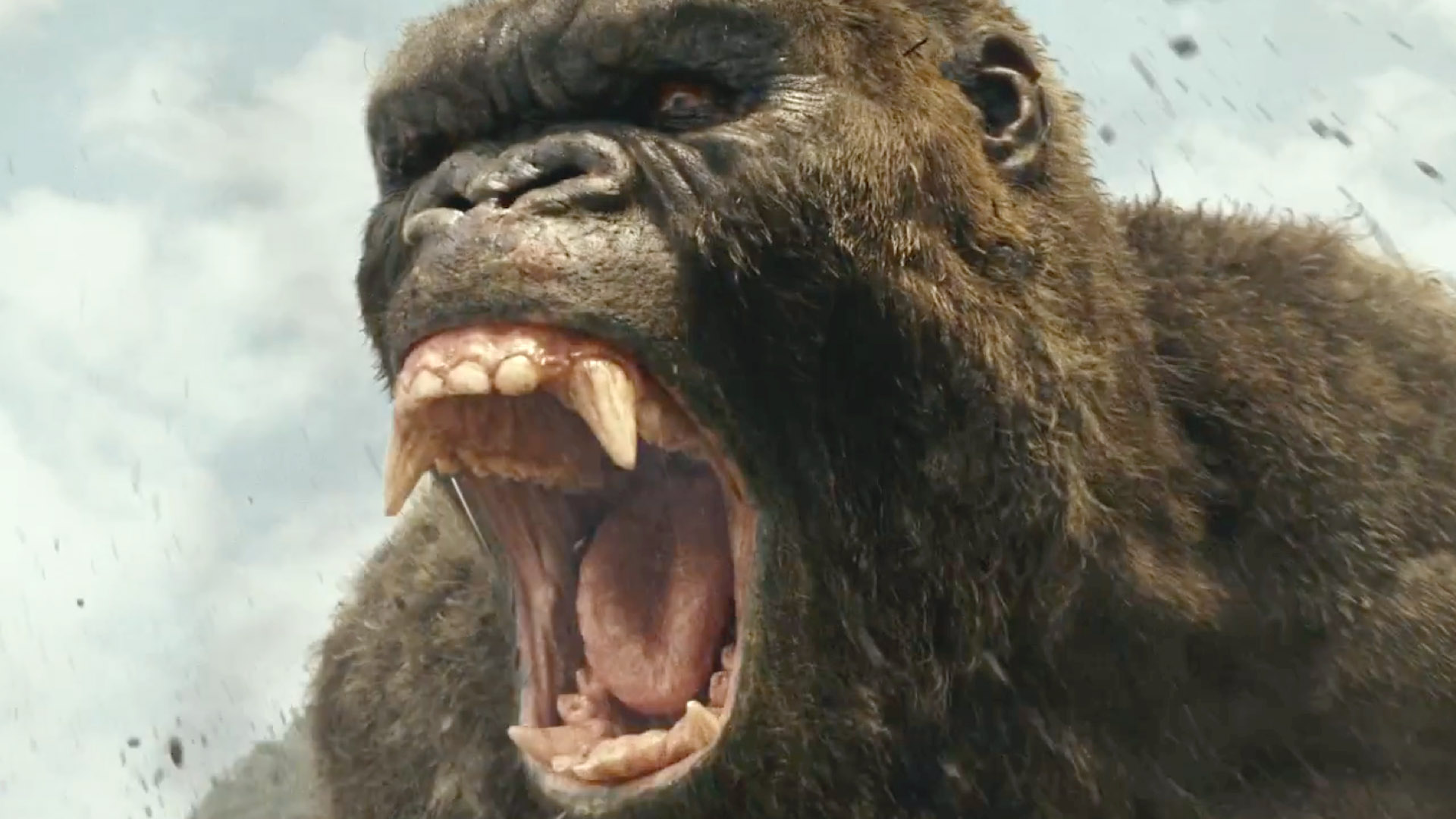 So, Kong makes his first appearance by attacking the military convoy, which was kinda violent.. since you see helicopters are swatted out of the air and bodies fly through the sky, and frankly I do not blame him for that….
The main characters survive, naturally, but are scattered in two or three places and this gets Colonel Packard declaring war and vowing vengeance for his fallen men…
One of the team, consisting of Bill Randa, James Conrad and Mason Weaver soon find out more about the island when they came face to face with some aboriginals called the Iwi tribe living there and surprise, surprise.. the American World War 2 pilot who explained what it was around the island…
The team then learn how Kong was revered there on the island and it was he who kept the island safe from even more diabolical and monstrous creatures called the Skull Crawlers, some freaking ugly lizard-like creatures with just two legs and lizard skulls and sharp teeth to rival the sharks… which were responsible for wiping out his family…
So begins the journey of one team trying to stop the other team from destroying the wrong creature and the fight on how to get back to the real world….
Will they survive Kong or the Skull Crawlers ? Or even the various other freaky creatures on the island?
How will they get back to the real world ?
Personally, I have to say that the story is pretty fantastical, so go watch it with an open mind and you will be sure to enjoy it… However, it can be a little too violent at times.. and I found myself cringing in my seat several times, but it could also be because I was watching it in 3D IMAX and it was just so damn realistic and too close for comfort… but yes, I like the movie and won't mind watching it again....
And yes, do stay until after the end of the credits.....