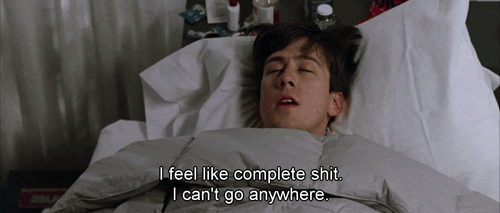 Nobody really likes waiting in a doctor's or a hospital's waiting room for ages…. It is not just annoying and boring, but it can be pretty problematic for sick people to surround themselves with even more sick people, after all, you already have a weakened immune system and a hospital or clinic's crowded waiting room makes it easy to pick up an additional infection over the one you are having.
Pic taken from pinterest and credit belongs to owner
After all, you would be waiting from about 15mins to sometimes over an hour – for hospitals in a packed waiting room where other ill people are coughing and sneezing. And so, sadly, chances are high that you may end up walking out of the waiting room with an additional cold, flu, or other contagious virus.
pic credit to bustle.com
Maybe you might be having an embarrassing health condition? Admit it, as everyone does at some point of time will suffer from something embarrassing which we really don't feel comfortable telling the doctor about, such as, that itchy rash in an unmentionable place, the pain we have when urinating or pooping or perhaps some errr, sexual problems…..
Ok, so I was struck with a bad case of diarrhoea not too long ago, and everyone knows how annoying having diarrhoea is… you start purging almost anytime whenever your tummy feels upset… and it can be just so hard to get yourself out of the house to go see that doctor half an hour away and wait for him or her…..
And to get a doctor to do house calls will just cost you a bomb, unless you are filthy rich, something which I am not...
Luckily someone told me about

www.doctoroncall.com.my

, which is Malaysia's first and largest online Doctor consultation platform that provides better healthcare services via chat, voice calls and video calls.. Through DoctorOnCall, you can get medical advice from Malaysia's best physicians…all who have had more then 10 years of medical practice…
....and so I decided to contact DoctorOnCall…. It is easy to contact a doctor at DoctorOnCall, all you have to do is register yourself / or if you are already a member, just log in… then using your laptop or smart phone, open the link

www.doctoroncall.com.my

, then just jot down your symptoms and concern… then choose whether you want to do a video call to the doctor, which is more recommended for normal symptoms, or prefer to just message or voice call the doctor, which might be the case for more embarrassing symptoms… you will be charge RM20.00 nett for consultation, which can be paid via debit, credit card….
Once I made my payment, I waited for about 4 minutes - waiting time can be anytime up to 15 minutes-, before Dr Adeline Peters came on… She was so professional and friendly and asked about how I was feeling…so I explained that I was having diarrhoea and she asked since when etc….
But because the doctor is not there in person to examine you, you might just have to act as the doctor's hands. You need to help feel yourself up –don't get the wrong idea- and let him or her know.. such as perhaps, about that swollen lymph node, where the pain is located etc..
In my case Dr Adeline asked me to press my abdomen to see where it hurts the most… and then do a blood circulation check by pressing on my fingers and see if the blood supply or redness comes back in less than 2 seconds or more….
This also helps us to analyse our own health and potential symptoms that may crop up again. Examining ourselves under a doctor's guidance also helps us monitor our own condition throughout the course of our treatment, so that we know when to stop or when to seek more help...
After satisfied with my answers, she then gave me a prescription…and explained how to take the medication…Don't worry about taking notes as the prescription will be SMSed to you and your doctor will email it to you as well along with the price….
pic credit to unionavepharmacy.com
Then from there, all you have to do is make the payment for your medication and it will be sent to you within a few hours…
In case you are wondering about Dr Adeline's qualification, she has been a General Practitioner for 15 years and is currently based at Mediviron Wisma UOA, yes, you can check out your doctor's qualifications on the website….
I really love DoctorOnCall as it is just so convenient , concise and you can get your medication within just a short time sent to you wherever you are….
I like that you can also conveniently see the doctor wherever you are, whether you're stuck at home, out and about, or working in your office.
And if you are doing a video call with your doctor, you might actually feel more connected to your doctor also…
The best part of DoctorOnCall is that you can choose where you want the consultation done when you want it done. You do not need to schedule appointments or wait for too long..
Minor medical conditions can be treated this way like headache, migraine, skin conditions, acid reflux, cold/flu/fever/minor injuries, UTI, constipation, eye conditions, infections, etc. And best of all, is via DoctorOnCall, the cost is lower.
Take note though that DoctorOnCall is only available from 8 am to 12 midnight from Monday to Saturday and 8 am to 12 noon on Sunday…..
Medication delivery will be between 8 am to 6 pm Monday to Friday …. But if you consult the doctor after 6 pm, then your medication might only be delivered the next day after 8 am, and if you consult the doctor during the weekend, medication delivery will only be on Monday after 8 am… fret not, if you are having a diarrhoea like me or something urgent, you can actually take the prescription to your nearby pharmacy and get your medication there as well….