One of my all time favorite salon when I need a change or a hair makeover would have to be the Daisuke Salon De Coiffure. They have never failed to impress me with a hair makeover whenever I am bored with my hair and need a change… which we actually do, from time to time…
Located in Three Two Square in PJ, Daisuke Salon De Coiffure is owned and operated by a Japanese hair stylist, Daisuke Suzuki, and his lovely wife Ai and his professional team which have been personally trained by Daisuke himself….
I personally love the salon as it is has a very homey feeling, unlike other salons which can be quite clinical and cold at times…
They also have privacy partitions for those who are Muslims and wear the Hijab or for those who just prefer some privacy with flowy white curtains…
I had the opportunity to sit in the privacy corner and got a little armchair with a foot stool that faced a huge top to bottom mirror for me to check out what is going on or well, for those who are slightly vainer, to admire your whole self.
One of the hair stylist serve me some nice brown rice green tea just as I am seated and plopped several magazines down for me to read or browse through. The service here at Daisuke Salon De Coiffure is definitely second to none….
On this particular visit, I wanted something different to celebrate Hari Raya as well as my birthday which falls just around the end of the month… and Daisuke and his wife were able to fit me into their busy schedule…, of which I am very grateful for… thanks Daisuke and Ai….
I did not want anything too flashy since I once did an ombre before and was left half in shock in another salon somewhere else, and the result was way beyond what I wanted.. it took me months to come to terms with it and get rid of it.. lol…
For those who do not know it, the word ombre comes from the French word "shadow". Ombre is a style with the transition of a lighter shade from a darker shade. Ombre is great for a person who is daring, as it is definitely noticeable.
While the ombre can be quite beautiful, it is also something that needs to be done by a professional! A bad ombre can be shocking like I found out the first time when I got more then I bargain for… well, that was years ago when ombre was getting famous and well, I did not know of Daisuke Salon De Coiffure back then….
"Balayage" is yet another French word that means "to sweep", a technique where the colour us actually swept through small sections of the hair onto a board or foil, giving it the natural transition down into the lighter color. There are dark patches left on the bottom to create dimension and a more natural look.
So since I wanted to be adventurous after admiring many people's hair colour but I just did not want to be so overly shocking or flashy. I asked Rene, my designated hair stylist of the day for some peek-a-boo colours, to which she recommended and gave me a bottom half hair ombre.
My hair first got a touch up from my previous colour, before it was separated into two different sections, top and bottom, the top part being clipped to the top of my head while the bottom half was bleached twice to lighten it up…
Once it was lightened, Rene created a mixture of my desired hair colour.. which was turquoise and also purple and applied it to my hair…
Then my hair was washed and blown dry before getting ironed and tadaaa…… my new hair do
I was really impressed and I truly love it despite it's unconventionality for someone my age, but what the heck.. I am young at heart and that is actually my favorite colours and I really am in love with the colours and effect…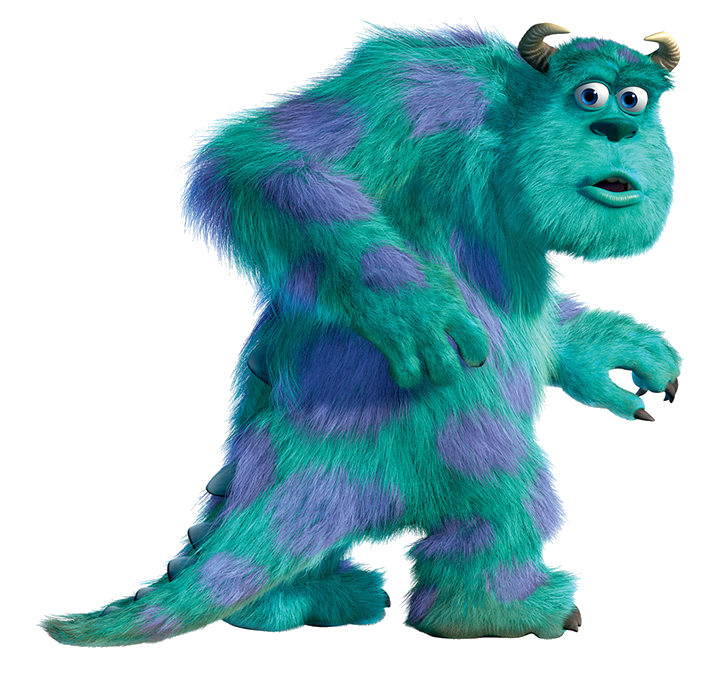 ...though it does somewhat make me think of Sully of Monster Inc huh...
Be warned though that it is a whole day process since I was at the salon from 10.30am to 5.30pm….however the stylists are very kind and will help order take-aways from nearby food shops for you if you are hungry and also top up your green tea…
Do look for Rene at Daisuke Salon if you need a change and some interesting colours for your hair. She is a pro... Thanks Rene for my awesome hair...
DAISUKE SALON DE COIFFURE
Unit No. 25-01, Ground Floor, Block C,
No. 2, Jalan 19/1,
46300 Petaling Jaya,
Selangor Darul Ehsan.
Tel : 03-79600 140 (Please call for hair appointment)
Check out their FB and PM for hair appointment