LANEIGE is absolutely one of my top 5 favourite brands I cannot live without... and as a woman, I love cute stuff and so when I learn about the Laneige meets Fashion collaboration, I was delighted... two of my favourite things packaged as one, now how can a woman like me resist....
LANEIGE MEETS FASHION is a yearly collaboration between Laneige and an up-and-coming fashion brand, brings about the launch of special edition makeup products. As the leading K-Beauty brand, LANEIGE recognises the importance of a fun, harmonious relationship between beauty and fashion in creating the perfect K-beauty look. With its yearly initiative of 'LANEIGE Meets FASHION', Laneige creates the ultimate balance of beauty and fashion to inspire and encourage fans to always have fun with beauty and fashion.
Last year's 'LANEIGE MEETS FASHION Project' was in collaboration with Push Button in 2014. This year, the project it is a collaboration between LANEIGE and PLAYNOMORE which will debut in September 2015. PLAYNOMORE is a Korean fashion brand that stays true to its name as it is all about having fun with fashion. Loved especially by top models and celebrities, it expounds on contrasting concepts such as luxury versus economical and mannish versus feminine with contemporary fun.
Since its launch in 2014, PLAYNOMORE has gone viral since the release of its signature item: the SHYGIRL bag. This signature piece is a minimal square tote bag decorated with cute comic book style big eyes. The SHYGIRL bag comes in various bright colours complete with the brand's signature eye pattern decorated with sequins. The brand's viral attraction comes from its witty designs which takes a common bag style and adds a twist in the form of a cute logo or a vivid colour. In just a span of a year, PLAYNOMORE has made its mark throughout the Asian market, particularly in China, Singapore, Hong Kong and Taiwan.
Look carefully and tell me you are not charmed or find these designs so cute... I know for sure I do and I would love to own one of these.... huhuhu
The collaboration between LANEIGE and PLAYNOMORE first appeared at the 2015 Fall/ Winter Seoul Fashion Week as the must have item for top models. The signature SHYGIRL logo had undergone a makeover, adding a new pink heart to the curious eyes of SHYGIRL to mark the collaboration between the two brands. The look adopted a new name as part of the collaboration: My Darling SHYGIRL which will be embellished on the bag.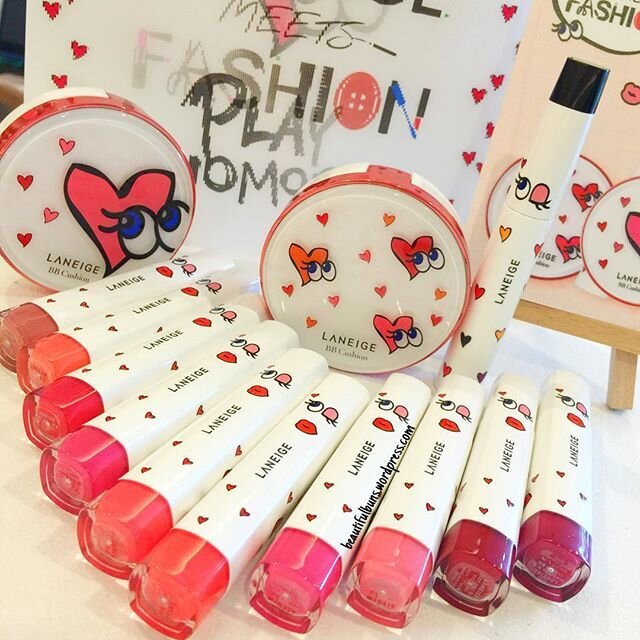 Along with this special collaboration between LANEIGE and PLAYNOMORE, LANEIGE is also launching its all new Intense Lip Gel.
This is a high gloss, high colouration and high moisture lip colour – the Intense Lip Gel is a new hybrid style that has been formularized to maximise only the good features of a lip gloss and lipstick. Its texture possesses the moisture feel of a gloss while also giving off the clean applicability of a lipstick.
Upon application, the Intense Lip Gel has a glossy shine and vivid colour payoff, similar to that of a lipstick. Apart from that, the Intense Lip Gel also soothes dead skin cells on lips and ensures the lips does not feel sticky despite the gel-like texture. I absolutely heart this.....and I want mine!!!
Here are some of the Intense Lip Gel amazing features:
1. Express Moisture Coating & Clear Shine
Formulated with a 'Gel Double-Layer Forming Technology', the lip gel possesses distinct effects of colouration, glow and moisture. Its water-soluble gel top coat enables the first-layer colour (high colouration) and second-layer top coat (high gloss and moisture) to be separated after application.
This leaves a clear shine on the lips while also giving off a vivid colour on the lips.
This is because the Intense Lip Gel has been formulated with Oil Floating Tech, which is a formula that uses phase separation effect of water and oil to ensure that the oil gloss is constantly floating on the colour to give off a high gloss effect. The formulation of water polymer gel and oil liquid provides long lasting wear without leaving a sticky feeling on the lips.
The Intense Lip Gel contains high intensity moisturizing oil that is locked with an elastic layer that is as moisturizing as a lip balm. The product went through a development where intense moisturizing oil is absorbed by the lips and forms an elastic polymer layer that prevents water evaporation from taking place. Oil is therefore replenished and water is kept to ensure the hydration of the lips.
An applicator is included with the Intense Lip Gel to densely but gently fill in even the finest lip wrinkles so the lips may look glossy and well-moisturized.
This comes in 10 vivid interestingly named colours , Rosy Nude, Melting Pink, Coral Breeze, Custard Coral, Coral Soufflé, Jelly Pink Bean, Syrup Pink, Maple Red, Loyal Red and Squeeze Plum. It also comes with a Limited Edition packaging incorporating PLAYNOMORE's signature comic book style big eyes.
Besides the Intense Lip Gel, the "My darling SHYGIRL" will also be featured in the ever-popular Laneige BB Cushion (Whitening and Pore Control), available in #13 Light Beige and #21 Natural Beige and Laneige Jet Curling Mascara for a limited time only
The Laneige Intense Lip Gel (5ml), priced at RM75 and the Limited Edition packaging for Laneige BB Cushion (RM159) and Laneige Jet Curling Mascara (RM84) will be available at all Laneige boutiques and beauty counters starting September 2015.
I do so adore the cute designs... I am gonna go head over to the Laneige beauty counter soon to check it out...... See you soon....