I have to say I am a huge Honor fan now after using the Honor 8 and well, the Honor 6X is also grabbing my attention.... -sheesh, down, girl, down- as it is touted the perfect technological budget beast built for the cost conscious yet uncompromising Internet-minded millennial.
Embodying the "double or nothing" motto that millennials live and breathe, the Honor 6X breaks new ground at Consumer Electronics Show 2017 in Las Vegas recently with its premium dual-lens rear camera, extended battery life and rock-solid performance.
I heard that the Honor 6X is rumored to be a powerful and versatile all-rounder packing top-of-the-shelf features empowering users to explore the world, cultivate their inner artist, and enjoy a world of music, gaming and movies. It is also geared towards those unwilling to cut back on performance, and painstakingly engineered with uncompromising excellence...
It comes with a generous 5.5-inch full HD (1920*1080p) display, and is gorgeously ergonomically designed with a full metal slim body (8.2mm thick) . It comes with 2.5D glass on the front and curved panel on the back.
Being a blogger, social influencer and just someone who enjoys taking photos, the camera features is really attracting my attention as it comes with a powerful dual-lens camera offering a wide aperture range (F/0.95-F/16) giving you all the possibility of unleashing your creative potential.
The main 12MP camera is responsible for the composition of the image while the 2MP camera provides depth of field information, resulting in beautiful shots that are sharp and crisp. Combined with the camera's wide aperture (F/0.95), the Honor 6X produces professional-looking background blur to make your subjects stand out.
This, coupled with a 1.25um pixel size, enables the Honor 6X to capture quality shots even in low-light settings, which is something I need...... The Honor 6X's camera uses Phase Detection Auto Focus technology, which allows for an ultra-fast camera focus speed of 0.3 seconds.. so far it sounds simply amazing right... I just hope I can get one to try and see how it is once it is here as it really do sound like a dream phone.........
Fueled by a Kirin 655 boasting an octa-core architecture, the Honor 6X is created to give us a glitch-free user experience.
Kirin 655 packs four cores clocked at 2.1GHz and another four at 1.7 GHz. Supported by 3GB/4GB RAM1 and a powerful i5 co-processer, the Honor 6X allows you to seamlessly game, browse and listen to music or run multiple apps at the same time.
To further boost the agility of the device, the Honor 6X features Honor's Smart File System, which enhances Android's EXT4 system, preventing fragmentation and increasing the lifetime performance of the Honor 6X
The battery power sounds pretty impressive too as it is running on a powerful 3340 mAh battery, thus offering an exceptional battery life perfect for people hooked on their smart phones like me.. hahah...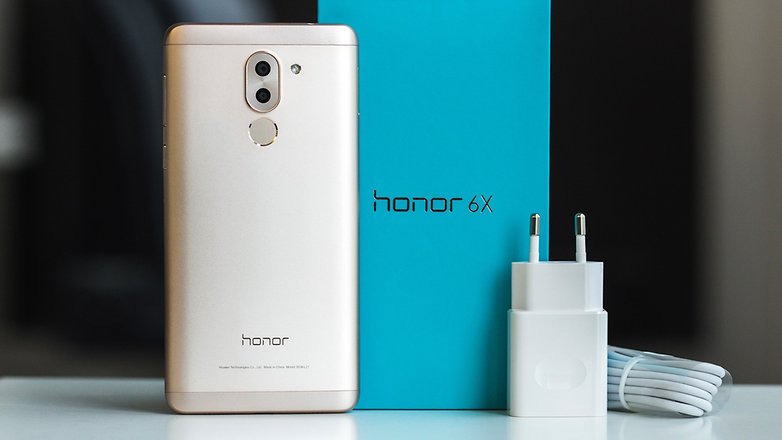 pic credit to androidpit
With its 16nm CPU and power saving technology further reducing power consumption, the Honor 6X provides 2.15 days of usage and 1.5 days of heavy usage on a single full charge. On a single full charge, the Honor 6X allows you to enjoy up to 11.5 hours of video, 70 hours of music, or up to 8 hours of gaming.
pic credit to techtimes
Supported by an optimized proprietary 5V/2A charging technology, the Honor 6X juices up in no time, making it the perfect millennial companion. The Honor 6X comes in three colors – gold, silver and gray... and yes, yes, I cannot wait to check it out... and share it with you if I can get my filthy paws on one of these gorgeous babies... hahahah....
The 3GB variant of the device is said to available for purchase from 4 January onwards in select markets, including the United States, the United Kingdom, France, Germany, Spain, Italy, the Netherlands, the United Arab Emirates, Saudi Arabia, Iran and Iraq, with other markets to follow soon, so watch this space.......
Bye for now from the Honor-addict.....