Malaysians love a lot of Korean stuff, ranging from Korean food, Korean snack, K-pop, K-drama, K-beauty, and talking about K -beauty, I am sure K- beauty fans out there must have heard about GUERISSON, which is one of the top Korean skincare brand around as well.. and yes, I admit I am one of those K-fans...
pic credit to pinterest
I learned about GUERISSON when I was in Seoul last year... it definitely interest me as well as to be honest made me cringe a little...since it is made from Horse Oil...
But actually, 'Horse Oil' is actually an ancient Asian medicine ingredient which has been around in Asia for millenia and it has also been catalogued in ancient Chinese medical books...
Horse oil stems from the fat of a horse
and contains high levels of alpha-Linolenic acid, an essential fatty acid (EFA) that cannot be produced by the human body. These EFAs help create a protective barrier that is antioxidative, antimicrobial, and reduces water loss through the skin, all the properties your skin needs for an even, glowy complexion.
The fatty acid composition of horse oil is said to the like human sebum, and this enables the oil to deeply penetrate the skin without feeling greasy..
Horse oil in cosmetics is derived from the fat taken from underneath the mane on a horse's neck, so, don't worry, no horses are
killed or harmed in the process.. these fat is then refined until it becomes odorless and colorless with no additives in its purest form...
And yes, to be honest, I first learned about horse oil a few years ago from the Japan fair ISETAN KL holds occasionally.. and horse oil products are quite pricey because of their amazing benefits and ability to make our skin more beautiful..
pic credit from beautime.com
Anyway, GUERISSON's brand ambassador is none other then the Asian Prince, Lee Kwang Soo, and he swears by it... and he was down in Malaysia to launch the new range of GUERISSON, which is the Red Ginseng
Series...
And yes, we know when there is a K-celebrity in town.... the girls and even some boys go wild..
The launch was at Pavilion KL centre court atrium, and well, the fans were there as early as 10 am to get their seats just to be able to see their idol in life... dang... what do these kids derive pleasure from I wonder....
Yours truly was very lucky to be among the selected bloggers who got some of the best seats to see the Asian Prince arrive...
pic credit to soompi.com
Who does not know Lee Kwang Soo.. he is tall, and being so tall, one of his nicknames is 'Giraffe', besides being the Asian Prince because he is just so kind, humble and nice to all... I watched him act in Innocent Man and cameo on Descendants of the Sun with his best friend Song Joong Ki
pic credit to astrogempak.com
.....and I also watched him cameo on Hwarang... and of course, who can miss seeing him on Running Man...
But pssst... this man has got abs... and if you want to see his 6-pack, be sure to check out the Korean version of Entourage... lol...
Ok, so Lee Kwang Soo arrives amidst all the swooning and screaming fans with some of those errr.... bodyguards that can win a fight with the Secret Service people, me thinks... hahahah and launches GUERISSON Red Ginseng Series...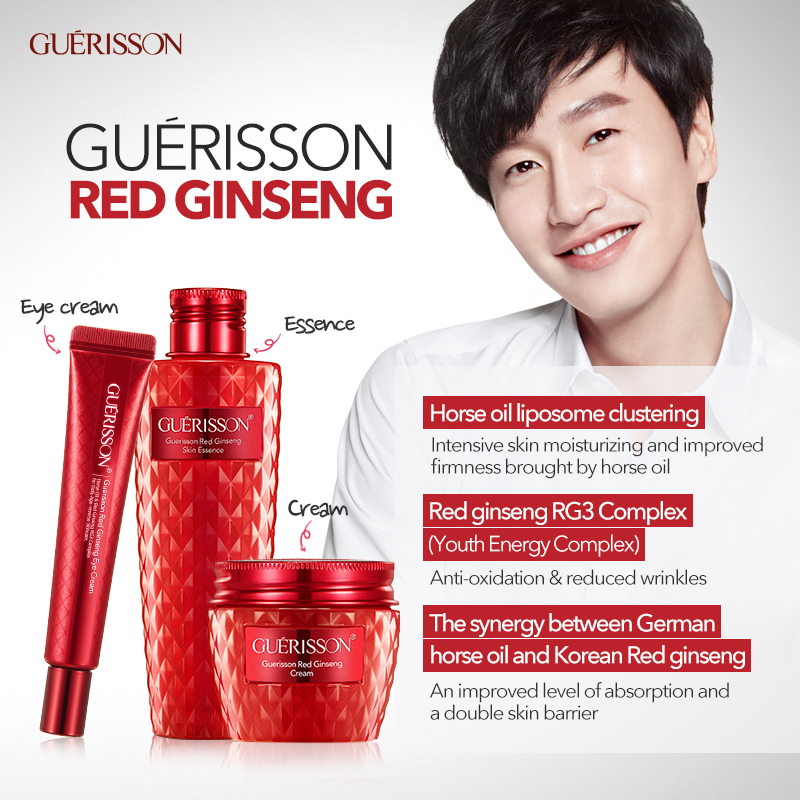 The GUERISSON Red Ginseng Series consist of just 3 products, which are - GUERISSON Red Ginseng Skin Essence, GUERISSON Red Ginseng Eye Cream and GUERISSON Red Ginseng Cream...
The Combination of the potency of German Horse Oil and the vitality of Red Ginseng RG3 extract adds strength to skin.
Guerisson Red Ginseng products contain a compound that has a high level of RG3, an active saponin ingredient from Korean ginsengs, and premium German horse oil that easily absorbs into skin
and... if you think the original GUERISSON is good, this is a whole new amazing range of products dedicated for people above 30 years old as it is part of the Age-Reverse Skincare range, just perfect for me...
I tried it yesterday and this morning and it was just heavenly.. love the texture, the feel and my skin feels just great...
...And sharing a little extra info here, for Muslim readers, Horse Oil is safe to use for Muslim. Guerisson products are registered under National Pharmaceutical Regulatory Agency...
GUERISSON's Malaysia's Sole Distributor is YIT and you can purchase your favorite and ORIGINAL GUERISSON products EXCLUSIVEly at SASA stores... The price range of the products is about RM149 -169....