Oh my gawwwd....It's
that slime of the year again! The Nickelodeon's Kids' Choice Awards is returning with amazing musical performances, outstanding celebrities and slimy surprises this 12th March !
Kids love this time of the year.. don't ask me why... even my 12 year old daughter is a huge fan and kept asking me, "Mommy, since you are a blogger, aren't you getting invites.. and if you can get invites, can I come along..."
"Sorry sweetie, I have not gotten any invites.... but am doing a post or two instead.."
Anyway, the show will be premiering in Malaysia on

Monday, 14 March at 11.30am

and repeating on the same day at 6pm.
Ok, Let's go through a pretty interesting a list of fascinating facts, I am sure many people both the Nickelodeon fans and those who have to suffer through it with the rest of us want to know about the Awards.
Let's see....., yeah... did you know Nickelodeon's Kids' Choice Awards is the only awards show that gives kids the power to vote for their favourites in movies, television, music, sports and much more -- and honours their opinions with a live show filled with the stars they love? As you read on, just remember one thing – it's kind of a big deal!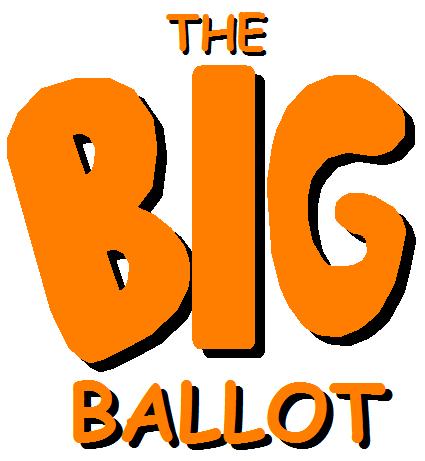 1. The Nickelodeon's Kids' Choice Awards was born stemmed from Nickelodeon's research with kids, which found that kids wanted to feel like they made a difference in the world. Kids wanted to be heard. So in 1986, Nickelodeon created Big Ballot, the first national poll of kids likes and dislikes. The Big Ballot was eventually renamed Nickelodeon's Kids' Choice Awards in 1988.
2. There was actually an actual use with the famed Nickelodeon's Kids Choice Awards award last time. The hollow orange blimp figurine handed out at the Awards also functions as a kaleidoscope.
3. That time host legends were created. TV personality Rosie O'Donnell is a Nickelodeon's Kids' Choice Awards legend, having hosted the show seven times. Kung Fu Panda star Jack Black comes up as a close second, racking up three stints as host.
4. That time the entire audience was slimed. The first LIVE Awards was held in 1992 and hosted by Paula Abdul. Slime continues to play a BIG role in Nickelodeon's Kids' Choice Awards.
5. In addition to winning Favorite Athlete at Nickelodeon's Kids' Choice Awards in 2003, skateboarding champion Tony Hawk went for the green - clinched a record – wowed the crowd with a spectacular "World Record Skateboarding Slime Dive," after landing in an 11,000-gallon/41,600-litre tank of Nickelodeon's signature green slime.
6. Will Ferrell held the world record for the longest 'Slip n' Slime,' slipping through 200 feet of the green goop at the 2009 Awards.
7. Did you know Orlando Bloom and Jack Black set the record for the longest sliming, getting showered with green goo for one whole minute at the 2008 Awards.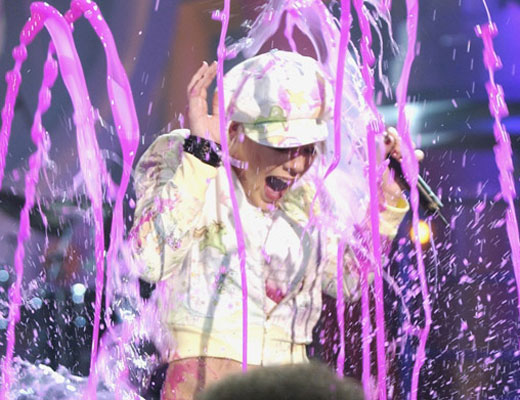 8. In 2002, multi-platinum recording artist Pink became the first person in the history of the Awards to be slimed with non-green goo. It was pink! This was before David Beckham and his sons Romeo and Cruz were slimed with gold-coloured slime for the first-ever Nickelodeon Kids' Choice Sports Awards in 2014.
9. Since 2008, Nickelodeon Indonesia Kids' Choice Awards has taken place every year and broadcast live on GlobalTV in Indonesia. Last year, Nickelodeon gave out eight awards, including an Icon of the Year to a special public figure who inspired the children of Indonesia. Syahrini took home this award.
10. Justin Timberlake competed in five Burp-Offs, the most at Nickelodeon's Kids' Choice Awards. He won the Burp Award twice! Do you think he'll continue the legacy with his son??
11. SpongeBob SquarePants is probably the most decorated sea creature of all time, having won 14 awards to date, with 12 wins for Favorite Cartoon and two wins for Favorite Video Game. So... who lives in a pineapple under the sea.....???? Will he win this year again??!!
Anyway , hmmm.... This year's Nickelodeon's Kids' Choice Awards will be hosted by The Voice star and country music producer, Blake Shelton.
Voting has begun across all platforms....And, I got news!!!! Do you know our very own Malaysian diver Pandelela is contesting for Favorite Asian Sports Star.
Let's support her and vote for her via kca2016.com or tweet #VotePandelelaMY #KCA
And for now... let's watch Blake Shelton get slimed!!!! Hahahahah
Don't forget to catch the Kids' Choice Awards 2016 on
Monday, 14 March at 11.30am
and repeating on the same day at 6pm!!!!