DOVE marks International Women's Day with #YouAreAGift campaign and surprises 10,000 women with flowers and notes of appreciation
Women are quite often unappreciated and it can be sad, and as conservative Asians, many people do not voice their appreciation to their best friends, mothers, daughters, teachers and the important people or women in their lives. DOVE Malaysia, well known internationally for it's emblematic beauty bar, Moisturizing Body Wash and now Hair Care, took to the streets to give a awesome surprise to 10,000 women of all races and background with a lovely pink rose and notes of appreciation that women are a gift despite of whatever roles they hold, as a mother, a daughter, a sister or even a friend.
The #YouAreAGift campaign, saw Unilever Malaysia employees and a few bloggers like yours truly giving out roses and message cards to women, who were definitely pleasantly surprised by the gesture.
International Women's Day brings to light the important contributions and innovations that women has achieved and in conjunction with that, DOVE feels that International Women's Day should also be seen as an opportunity to appreciate the women that are close to us for the nurturing, loving and supporting role they play in our lives. After all, it is the women in our lives, our moms, our sisters, daughters and girlfriends that help shape us into who we are today. Their beauty, strength, love and encouragement are their gifts that has seen us though thick and thin. DOVE believes that real beauty is what that makes a woman who she is....
The Unilever Malaysia employees and the handful of us bloggers spent the morning and early afternoon at various high traffic areas in KL Sentral. Some of the other Unilever Malaysia employees were also at other places like universities, colleges and some office buildings.
On receiving the flower and message card, women were encouraged to snap a photo of the card, #YouAreAGift and tag every woman - mother, sister, friend, teacher.. who has made their lives special.
The #YouAreAGift Campaign not only reaches out to these 10,000 women but through the digital platform in a very unique DOVE video with the hope that these women in turn will share the message with the other important and beautiful women in their lives.
DOVE Malaysia took the opportunity and shot a special heart warming video of women sharing stories and feelings of the special woman in their life - mother, sister, or friend. These women came clean and told candid feelings about their special 'woman' in their lives without realizing that the special woman in their lives was watching and listening to the entire interview in the next room secretly.The 'reunion' shot was priceless when the special woman in their life joined them halfway through the interview.
DOVE's message through this video is to spread the message that we as women should show the women in our lives how important they are to us and how much we appreciate them!!!!
To my mother, my daughters, the few ladies who have been like a sister to me and have stood by me and supported me in various ways.... Thank you and I love you. Happy International Women's Day!!!!!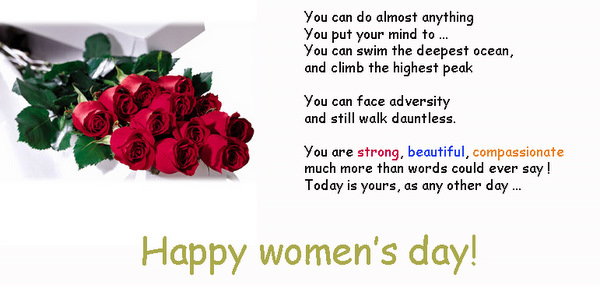 Watch this video, it is very, very heart warming....
Cheers
Miera Nadhirah
Twitter:
http://www.twitter.com/mieranadhirah
Instagram:
http://www.instagram.com/mieranadhirah
Facabook:
http://www.facebook.com/mieranadhirah
Migme:
http://mig.me/u/mieranadhirahdotcom