AM I READY TO GO TAIWAN? Are you kidding me? The answer would only be : of course!!!
Thanks to
Time for Taiwan TTBKL
The Butterfly Project Malaysia
will be sending one lucky person and her friend off on a "Time to Enjoy Life" 5D4N Taiwan Trip worth RM8,000 (inclusive of flights, accommodation, tours). All I am supposed to do is to blog about why I want to go Taiwan based on one of the following theme: Time to Eat (foodies) / Time to Shop (shopaholics) / Time for Two Wheels (the LOHAS lifestyle).
Sighhh....This is hard...I love eating, I love sightseeing but I am one of those hopeless idiots who cannot ride a bicycle and I also love shopping, but when I travel, it is more on enjoying the different sceneries, trying out the food and exploring the culture.....
To choose a theme.... is just soooooo hard... but I will aspire to do my best in the hopes of being the lucky one chosen for a Taiwan trip by the Butterfly Project Malaysia.... So I guess I will go with eating....
The tourism industry in Taiwan is always pretty busy, partly because of food aficionados who are flocking there for reasonably cheap and delicious eats, besides all the other amazing places of interests. Snack foods sold at plenty of Taiwanese night markets are pretty well known for taste and quality, even though they are made by local vendors.
Night markets have been a major part of Taiwanese culture for much of its history, though they began as small gatherings for local vendors to sell their products. These markets transformed over time into central hubs for eating, shopping, and socializing in modern-day Taiwan.
There are so many amazing food in Taiwan, though as a Muslim, I have to abstain from some of the non halal ones or at least the one that has alcohol or pork in it... Taiwanese food is said to be among the best in Asia as well due to a few points...
The variety of influences: there is no other place in the world where chinese and japanese cuisine come together to create a strong influence.
Freshness and quality of ingredients: Taiwanese farmers' skills and techniques are among the best in the world. Besides, ingredients have to cover very short distances before being sold in the markets. Taiwan food is very fresh. The same cannot be always said about Malaysia, huhuhuh
A lot of educated customers: competition is fierce among restaurants in Taiwan and the people really know about good food. Even the quality of the coffee that is drunk in Taiwan is top selection. Coffee might not be a Taiwan tradition, but still their coffee is much better than in many westerner countries - except maybe Italy
Pineapple cake
This iconic Taiwanese pastry -- mini-pies filled with candied pineapple filling -- is one of Taiwan's best food souvenir even though it is somewhat slightly pricey...
Fried chicken
Taiwan has a special place in the fried chicken hall of fame. Not only has the giant fried chicken cutlet become a cult classic, but its popcorn chicken also can be pretty addictive.
The chicken is chopped into bite-sized pieces, marinated, dipped in batter and deep-fried. A generous sprinkling of salt and pepper complete the irresistible morsels.
Oyster vermicelli
A bowl of great oyster vermicelli has a thick, flavorful soup base which is

gooey and quite slurpable with an intense briny taste. Check it out at Shilin Street Snacks here in Malaysia... I know I love it...
Tian bu la
Tian bu la refers to fish paste that's been molded into various shapes and sizes, deep-fried, then boiled in a broth. Before eating, the pieces of solid fish paste are taken from the broth and smothered in brown sauce.
Doesn't sound like much, but tian bu la delivers plenty of sweet flavors and chewy textures, making it a beloved Taiwanese food. I think it's somewhat like our own Yong Tau Fu
Stinky tofu
This could be the world's premier love-it-or-hate-it snack and Taiwan does it just right.
The "fragrant" bean curd is deep-fried and draped with sweet and spicy sauce. It you hold your nose, it looks and tastes just like a plain ol' piece of fried tofu, with a crisp casing and soft center like pudding.
But what's the fun in eating that? Inhale deeply and relish the stench, the smellier, the better. I dare you... hahahah
Tamsui Agei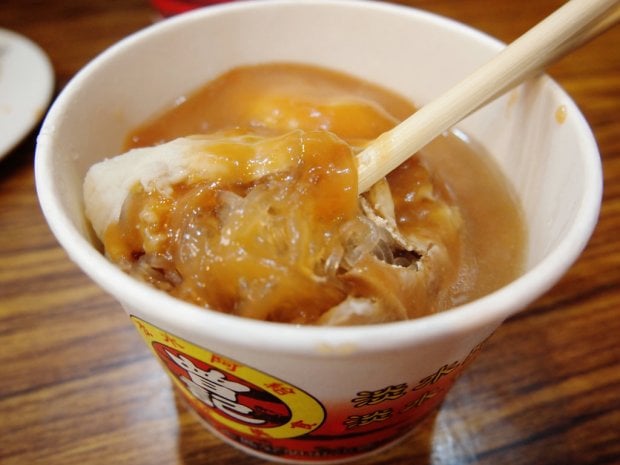 Agei comes from the Japanese "aburaage," which are deep-fried tofu pockets.

Taiwanese agei are stuffed with mung bean noodles and sealed off with fish paste. A typical, sweet-spicy sauce completes the snack.
The tofu soaks up the soup it's cooked in, so each bite bursts with broth.
Taken together with a soya bean milk, the agei makes an amazing savory breakfast.
Hot-star large fried chicken
According to a Taipei Times' report of 2011, Taiwanese devour more than 250,000 fried chicken cutlets a day.
Piled atop each other, that would make a chicken cutlet tower 10 times as tall as Taipei 101, the island's tallest skyscraper at 508 meters. Amazing huh... and that is how delicious or well sought after it is!!!
The enormous slice of boneless meat, almost as big as your face, is quite moist with a crispy crust. A generous coating of five-spice powder and pepper gives it a kick.
Bubble tea
Bubble tea supposedly represents the "QQ" food texture that Taiwanese love.

The phrasemeans something chewy, like the tapioca balls forming the "bubbles" in bubble tea.
It was said that this no longer so unusual drink was invented out of boredom.
Cuttlefish
Taiwan gets a lot of cuttlefish, and grill stations spiked with cuttlefish skewers can be found everywhere in the southern tip of the island.
It is served with a smoky aroma, obvious grill marks, glistening furled edges and dustings of salt and pepper .
Having said all that, ah well, do wish me luck... but at the same time, Good Luck to all other butterflies.....