As to date I have caught over 160 pokemons without having going out at night, chasing pokemons around masjids, suraus, temple or even shrines. W

hose stupid idea was it to make places of worship Pokestops or worse Gyms?!! Pokemon hunters, please oh please-lah, I beseech you, respect these
places of worship!!!
I play my Pokemon Go only when I am at shopping malls or parks and I avoid going to weird places and so on....going in the middle of the highway or any such thing...and why the hell would anyone want to do that I do not even know...
picture taken from google.com
Be careful playing it outside at parks and at the side of the road... remember Malaysia is a haven for snatch thefts and you are practically BEGGING and LURING those snatch thieves to take your smartphone when you are all engrossed with that game...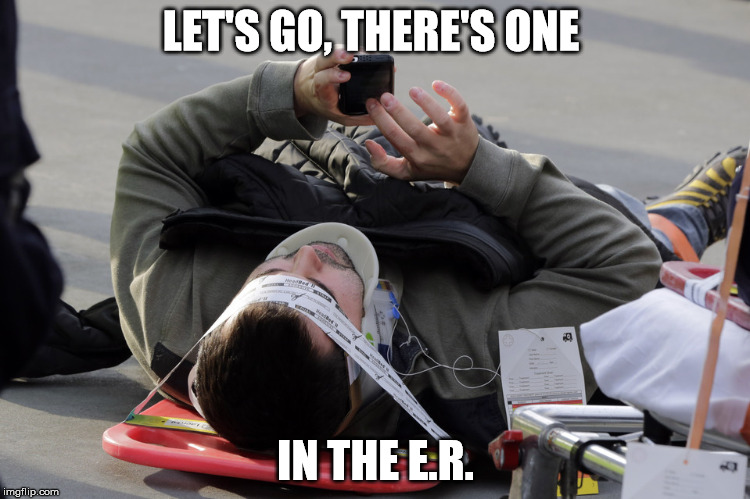 picture taken from google.com
Friends have been telling me how people walk straight into walls, other people and even fall down drains, stairs etc just because they are so engrossed catching that bloody Digital monsters....It it really worth all these risks???
Play smart and just catch those monsters with the green scenery like I do... it is safer and so much easier to catch rather then to try detecting them in real mode....I hate trying to catch those freaking creatures in real mode and prefer the green scenery where they are easier to catch... and safer for all of us too....
...unless you want to take a picture of them , but make sure you are in a safe place before you do that.....your life and safety is more important then an imaginative digital pocket monster..
It is just a freaking game.. a fun one yes, and I admit I enjoy catching these pokemons especially new ones and rare ones... but I will not go all crazy looking all over for it...
Pokemon Go can be a good game that encourages family bonding when father and sons go hunt Pokemons together and also encourages us to exercise more-example do you know when you want to hatch those freaking eggs in the incubator you have to walk anywhere from 2 km to 10 km???!!!
So there peeps, go play your Pokemon Go if you want, but play within reason and don't be too crazy or you will lose your phone, hurt yourself or even lose your life...and for God's sake, don't Pokemon and drive!!! There is nothing to catch on the roads also... at least in my opinion when I tried it when my hubby was driving...
pic credit to malaymailonline / choo choi may
Go and sit down in KLCC or Mid Valley and so on for a few hours if you have to and catch all you want.... that is safer and wiser... LOL.. Yeah, there is soooooo many Pokestops and Gyms there, and you are safe...