Am now following the Korean Costume Drama, Shine or Go Crazy over one of the new Korean channels Oh K ... At first I thought it was a silly drama because of the name but upon watching it... I got hooked.
First... let me introduce some key characters....
Jang Hyuk
(Wang So)
Fourth son of Wang Go.
Born in the strongest maternal family but due to the prophecy that he will bring bloodstorm in Goryo, was stigmatized as 'the cursed prince'.
Was kicked out of the palace and grew up in Keum Gang mountain.Because of the stigma that he is cursed and the scar that he was abandoned he lived freely without any goal in his life. He meets Shin Yool and learns the significance of 'choice'. He becomes a decisive man. A cursed prince who will bring a bloodstorm. But that bloodstorm can be a disaster or can be a light...Can light become Wang So's second destiny?
Oh Yeon Seo
(Shin Yool)
The last princess from Balhae, and is skilled in many areas, including astronomy, geography, and the art of war. She's fated to bring light to the Goryeo prince, and she's described as spunky and wise, and a believer in fated love.
Ryu Seung Soo
(Jeongjong, third Goryeo King)
Older half-brother of Wang So
Lim Ju Hwan
(Wang Wook)
Half-brother of Wang So and 5th son of Wang Gun. An intelligent man with outstanding fighting skills. Despite showing a kind demeanor, Wang Wook has a burning desire inside of him that has to be feared.



Lee Ha Nui

(Hwang Bo Yeo Won)
Goryeo's most beautiful princess. Intelligent and rational, her family comes first before love. She marries Wang So out of convenience and has no romantic interest in him.



Lee Duk Hwa

(Wang Shik Ryeom)
The cousin of King Wang Gun (founder of Goryeo). He appears weak and a yes man in front of the King but harbors an ambition to be King.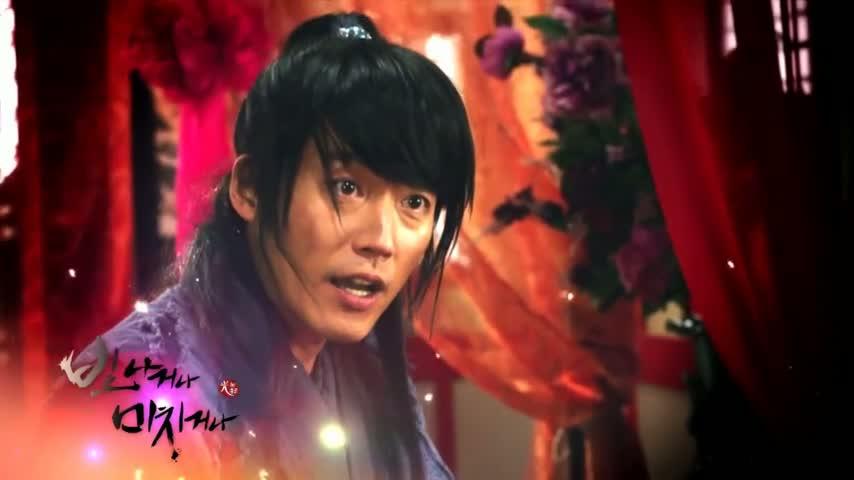 The story is of a said cursed Prince, Wang So (Jang Hyuk) who can change his unlucky fate through a relationship with one of two women, both lovely princesses. It was foretold that he would cause bloodshed, and as a result his own mother tried to poison him, but her plan went awry and instead Wang So's brother was killed along with numerous staff. What happened was also that his mother did not listen to the whole prophecy which was that he would be a great king once he meets the right woman who can help light his way.
The first woman or princess he meets is Shin Yool (Oh Yeon-Seo) who grew up and live as

a trader who speaks multiple languages. Her wheeling and dealing is interrupted by General Kwak who has her older brother, Yang Gyu Dal (Heo Jeong Min) dragged in. Turns out he insulted the General's daughter and seems to be a bit of a trouble maker for his sister. Her brother promised her hand in marriage to General Kwak. Shin Yool tries to give the General some cash for compensation but the General refuses. Shin Yool won't just give in and states that her brother must bear the punishment for the crime.

She then lies to the General that she is to marry someone else in 15 days from a match made by her parents.
Somehow Prince Wang So who was dressed as a peasant got roped in and coerced into marrying Shin Yool. T

hey both went through with this fake marriage not knowing that the other was actually royalty.
Just after the marriage, the two of them parted ways without Wang So ever seeing his bride's real face with just one half of a jade butterfly which he wore from then on. The other half of the jade butterfly was worn by Shin Yool.
Shin Yool is the last Princess of Balhae. Balhae is apparently a mixed Korean-Manchurian empire.

She was born with the fate of becoming the light for another country. But because of this fate, she was considered a threat by her cousin or some relative who tried to kill her as a child but was rescued by her two faithful servants,

Baek Myo (Kim Sun Young) her nanny who watches over her protectively and

Gang Myeong (Ahn Kil Kang)

.
Somehow, five years later, she is now living in the city near the palace, as the second in charge to her brother of a very prominent trading company Chunghae , which deals with expensive and special items.
On selling some prayer items near a temple where the royal family went to pray, Shin Yool meets Hwang Bo Yeo Won, also known as the most beautiful princess in Goryeo, and Wang So's second wife, arranged by his father the late King, who thinks Princess Yeo Won is the Light for Prince Wang So.
When she was going back Shin Yool spies a flower across the stream and tries reaches for the flower but cannot get it. She extends starts to fall into the stream but Prince Wang Wook who was watching her grabs her and holds her upright. Shin Yool thought it was her bodyguard and was surprised. She thanks Wang Wook for saving her. He chilvariously picks the flower she had reached for in vain.
She acknowledges him as the King's brother. Prince Wang Wook falls in love with Shin Yool and plans to woo her.
Wang So acts the fool in front of all the other royals and most of them, including the present King, his older brother think he is a good for nothing playboy, but in reality, before the death of the late king, their father, the old King has entrusted his secret army to Wang So to protect the country.
Wang So's uncle is trying to rule the country with a puppet, preferably with Prince Wang Wook and has a bodyguard and spy, Seo Won placed in Wang Wook and the Princess Yeo Won's home.
Wang So and Shin Yool eventually meets at a slave market. The slaver trader offers Shin Yool a woman and her son to purchase. She looks up into the crowd and to her astonishment she sees Wang So wearing rags. He does not recognize her because she is dressed like a man which she normally does when doing business outside. After asking her bodyguard to buy the woman and son. She blocks Wang So's way. He does not recognize her. She recognizes him and stares at him longingly and offers to buy him. He tells her the King is his owner.
Shin Yool is determined to help her 'husband' be a useful person and tries to train him into being a businessman, not knowing her husband was a prince.
Prince Wang Wook starts paying Chunghae Trading visits in the hope of wooing Shin Yool and is surprised to find his older brother Wang So there dressed as a peasant with Shin Yool dressed as a man but he wisely keep silent.
In a bid to threaten the Emperor, Wang Wook and Wang So's uncle declared a tournament where all the princes were to take part and announced to the pale King that the winner would be the next King, much to the King's fury.
Learning that Wang Wook had eyes for Shin Yool and was the expected winner, the King had Shin Yool brought to the palace and swore to kill Shin Yool as a blow to Wang Wook should Wang Wook win the tournament.
Wang Wook wins the tournament as expected but just before he was presented his price, Wang So rode up and demanded to try his hand out as well, and ends up the winner, much to his uncle's fury.
It was there Shin Yool finally realised that So So her husband was actually a prince.
Wang So finds himself getting more and more attracted and close to Shin Yool, even when he had not yet realize she was a woman. And when he found out she was a woman, his relief was evident. This brought about Wang Wook's jealousy who declared he likes her and wants her to be his woman.
Meanwhile, Princess Yeo Won learns about Shin Yool and her husband's relationship and is furious to find out she is the second wife.... She invites Shin Yool over and hints to Shin Yool that since Wang So knows she's a woman, she shouldn't meet him anymore.
Meantime, Wang Wook teams up with his uncle and asks to lead his uncles secret assassins to get rid of Wang So and the King's secret soldiers.
Wang So and Shin Yool gets more romantically entangled without her people knowing and Wang So's mother the Queen Dowager tries to make amends with the son she hated all this while after learning of his whole prophecy from the fortune teller, to Wang So's bewilderment.
In trying to rope Shin Yool in to work with Lord Wang is uncle, Shin Yool asks if the reason Wang Wook likes her is because she resembles his old lover. Wang Wook tells her that a prince first marriage is decided by the King or the prince and his lover will be executed.
Hiding in her room, Wang So finds out that Shin Yool is actually his bride, when she brings out her wedding clothes to reminisce and cry over unaware he is in the room.
Lord Wang by chance finds out about Wang So and Shin Yool's marriage when his son Poong brings a Chinese General to meet him and uses it in the attempt to kill off Wang So just as Wang So was trying to pin point Lord Wang and his allies as the late King's murderers. Wang So and Shin Yool are arrested.
Wang Wook still protects Shin Yool all the way despite wanting to see Wang So fall and because of that, he eventually cooperates with Wang So in the bid to save Shin Yool's life. Shin Yool however is sickly and is expected to die anytime. Even Princess Yeo Won eventually becomes Shin Yool's ally
It's kinda sad when eventually Wang Wook somehow finds out that Shin Yool and Seo Won are actually brother and sister, Seo Won being her older brother, and tries to somehow reunite them. However feeling guilty and bad of all the killings he did for Lord Wang, Seo Won refuses and eventually attempts to kill Shin Yool after being ordered to do so by Lord Wang who wants to incites an uproar by Shin Yool, but he ends up being killed by Wang Wook instead.
He gets Shin Yool to then fake her own death to fool Lord Wang. Princess Yeo Won is devastated by Seo Won's demise.
What happens next? Watch it over channel Oh K or watch this space... I will update some of the stories if I am free/or remember....hehehe
This is taken off google.... and is in Korean, but you can see via the pictures who is related or after who... hehehe....