There are some of my friends who have been asking me about my Itinerary as well as the run down of cost... I will try my best to jot it down here the best I can....
I flew Malaysian Airlines MH360 which I got a good deal at during the last Matta Fair for about RM1100 per person return. However the flight was at 6.30pm and we arrived in Beijing past midnight at about almost 1.30pm . After clearing Immigration and retrieving our checked in luggages , it was almost 2.15pm. Since we were travelling on our own, and on a backpacker budget/ shoe string budget, and there were no more train services to the city, we decided to rough it up and nap at the airport.
It was definitely uncomfortable.. but we did it...though we did not sleep that well...We were wide awake at about 5am, and the sun way high up in the sky then. We went to the toilet, and cleaned up and headed to the Airport Express train station to find out the earliest train was at 6.20am. We sat down at the side and waited until it was 6.00am and then lined up when there was a queue starting...
And that was the beginning of our stay in Beijing...(Prices here are all quoted for one person!!!)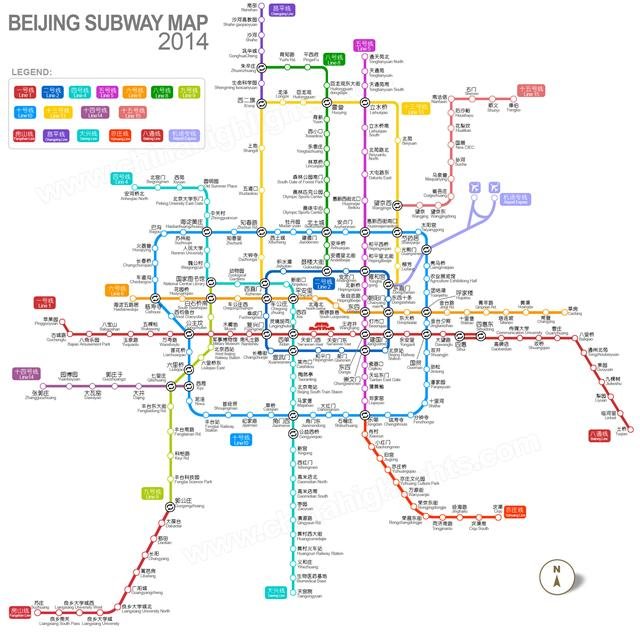 6.20am - Take Airport Express train to Beijing Dongzhimen Station - RMB25

It takes about 20 minutes from the airport to Dongzhimen. Passengers can transfer to Line 2 and Line 13 at Dongzhimen or transfer to Line 10 at Sanyuanqiao.
(see subway map above or refer
HERE
for a bigger one)
6.40am - Arrive in Dongzhimen and take Subway line 2 to my next destination XiZhimen (Line 2) ro change to Xinjiekou (Line 4) (Travelling by subway is inexpensive... it cost about RMB2 to about RMB5 per person per way )
7.00am - Arrived at our home for two nights, the Beijing Red Lantern Hostel in a small hutong near Xinjiekou.
I paid RMB440.00 (
RM261.12) for two nights in a private room for my daughter and me with shared toilet.
8.30am - Headed to Forbidden City from Xinjiekou (line 4) and getting off at Xidan (line 4/ line 1) to transfer to Tiananmen West station (line 1) and walking a very short distance to the front of Tiananmen Square and inside towards the Forbidden City (but it was a Monday and it was closed) so we went to a little garden on the left side of the Forbidden City and paid RMB3 for a stroll there... there was a little small residence there which was quite pretty .
10.00am - A
fter wandering endlessly around and going out the very long way pass some hutong behind the Forbidden City as well as a little souvenir shopping there... until we came to Tiananmen East Station back to Xidan to change to Line 4.
11.00 am -We decided to go to the Beijing Zoo and headed there on Line 4 to the Beijing Zoo subway stop. It costed me RMB40 for tickets to the zoo.
3.50 pm - Beijing Aquarium RMB150
5.30 pm - Dinner at a Muslim Chinese Noodle shop in XinZhimen RMB 20 (noodles and a drink)
6.00 pm - We then took the subway train back from XinZhimen to Xinjiekou and practically crawled back to out hostel as tired as we were.....
6.30 am - woke up, took our shower and all at got out of the Hostel by 7 am.
7.30 am - Arrived at Dongzhimen station and went to the bus stop to look for bus 916 to Huairou. It costed RMB12
9.30 am - Arrived in Huairou and got off bus. Get a van to Mutianyu. Van cost RMB55 from Huairou to Mutianyu.
10.15am - arrive at Mutianyu and pay another RMB158 for shuttle bus, ski chair cable car lift, toboggan slide as well as tickets into Great Wall....
12.30 pm - came down from Mutianyu on toboggan slide and take photo with two costumed old men RMB20, then we went for some refreshments and sandwiches at Subway nearby (approximately)RMB45
1.00pm - Take shuttle bus back to Mutianyu ticket office. There are shops there you might like to browse for souvenirs etc... prices are a little on the high side, so bargain to get really a good price...
1.30pm - Took van back to Huairou for another RMB55 and 916 bus back to Dongzhimen for another RMB12
3.30 pm - Went to Yonghegong Lama Temple one stop away from Dongzhimen . Entrance to the Yonghegong Lama Temple cost RMB25
4.30pm- We then headed to Xidan to do some window shopping at the shopping malls there...
5.30 pm - Took the bus no 22 from Xidan back to Xinjiekou and our hostel. RMB2. We packed out bags, had some biscuits and instant noodles for dinner then went to bed early to 'recharge' for the next day's activities.
6.30am - Woke up, finished packing, took shower and had breakfast at the Hostel, Red Lantern Hostel provides breakfast. We had some pancakes and juice before checking out of the hotel.
7.30am - Headed to the Goulodajie subway (line 2) and walked towards our new hostel, the Hutong Inn Zouyuanju Hotel. I paid for another two night here via Expedia RM 244.96 (Malaysian Ringgit) . This room was a little nicer with an attached toilet/shower.
9.30am - Since it was raining, we decided to head out of Beijing, since both my daughter and I wanted to try riding on a bullet train. We headed to the Beijing South Railway along line 4 and got tickets with some help from an English speaking Chinese guy there. The tickets to Tianjin costed RMB54.50
10.30am - We arrived in Tianjin in just about 34 minutes ride on the High Speed Railway...and spend a good help an hour figuring out where we wanted to go.
11.00am - We decided to start with a visit to the Grand Mosque in Tianjin which actually ended up wasn't so grand after all an more like a Chinese temple, but we got to see the poorer part of the town as well as the Muslim community there...
12.00pm - headed back to the subway and made our way to the next subway stop Liuyuan which we came out to the Lotte Supermarket. Got to do some grocery or is it more on snack shopping and then walked all the way to the Ancient Cultural Street. It was a pretty place and very picturesque and traditional... we browsed for a bit before heading across the bridge to the other side of Tianjin and with some help manage to find our way to the Italian Style Street there.... My daughter wanted to eat some Italian food there, so we ordered Spaghetti Mushroom Carbonara Vegetarian and a drink and that costed about RMB90
3.30pm - walked towards the nearest subway and headed back to the Tianjin Railway Station.. (subways here cost about RMB3-5 per person/per way)
4.50pm- Took bullet train back to Beijing for another RMB54.50 and back to hotel to rest, stopping at McDonald's for a meal... Filet O'Fish Meal with Orange juice cost less then RMB20 (I think.....)
7.30am - headed to Beigongmen station (line 4) to the Summer Palace. Entrance to the Summer Palace costed RMB60.
11.00 am - headed to Yuanmingyuan Park via the Yuanmingyuan Subway (Line 4) . Entrance to Yuanmingyuan Park and ruins cost RMB25. If you are tired and need a ride out from the Ruins park to 3/4 ways outside because it is a long, long, walk, you might want to take the tram ride for RMB8
You can also take some Empress/Concubine/Emperor costume photos for RMB30
2.00pm - headed to the Temple of Heaven via Tiantandongmen subway stop (line 5 ) and paid RMB35 for entrance there
5.00pm - back to Goulodajie subway and back to hotel. On the way, stop by the pharmacy for some cracked heels medication which costed about RMB24 and some drinks and cream caramel for RMB10 at the convenience store nearby. Head back to hotel
7.00 am - Last packing, and check out from the hotel, leaving the luggage in storage.
7.45 am - We walked all the way to Beihai park and the entrance into Beihai Park is RMB10
8.30 am - We walked to Prince Gong Mansion from Beihai Park. Entrance to Prince Gong Mansion cost RMB40
10.30 am - Forbidden City via Tiananmen West Subway station . Entrance free cost RMB60
2.30pm - Hutong Tour RMB80 per person (totally unrecommended and I consider myself fleeced here) because I only see dirty hutongs/ alleyways and the trishaw person wanted to stop at some teahouse again but we refused. I know there are prettier hutongs around but this is definitely not one of it...
3.30pm -Visit the Bell Tower and Drum Tower . Entrance to both towers cost RMB30 but that is not the worse... the worse... is of course the climb.... 75 steps for each tower... more or less.. steep narrow steps... the view is magnificent though... so unless for the view.... maybe you should just consider one tower... the bell tower... you can go up one tower for just RMB15
4.30pm - We headed back to the Beijing Capital International Airport on the Airport Express for RMB25 (not inclusive of the Subway fee of maybe another RMB3 from the hotel) At the Airport, if you want to take shower, there is a place at the Arrival hall. You have to pay RMB30 for rental of a towel, shower, soap, shampoo and a thin pair of disposable bedroom slippers....We did so since we did not had a shower since early morning....
And that was the end of our Beijing trip.....Hope this is of some help for those of you wanting to travel there... I like that it is easily accessible via subways and trains and buses... just get a subway map and you are good to go.....
Good luck and have a good trip...