According to the series plot and sypnosis....
This story is about Princess Jeongmyeong, sister to King Seonjo's legitimate heir, the Grand Prince Yeongchang, who is just a tiny kid. He was only two years old when King Seonjo has to pass the regency to one of his heirs knowing that he's about to die, and thus the throne ultimately goes to
the so called villainous Prince Gwanghae (a son of King Seonjo's concubine) who then exiles the Grand Prince
Yeongchang,
then murders him
.
Then the
rightful queen and her daughter, Princess Jeongmyeong, get ousted from the palace to live as commoners and fall to slave status and eventually plots her return to her rightful place... but it is a little far fetched from the truth....
Having diligently been watching it thanks to my Astro PVR recordings... I found that untrue...
To me, Prince Gwanghae, eventually King Gwanghae was seriously misunderstood. He was often criticized by his father, but somehow he had a loving relationship with his half sister despite having his step mother trying to separate them. He allowed his half sister to call him "brother" when they were alone.
Princess Jeongmyeong was somehow also entangled to the the Chief of Police's son Hong Joo-Won and the evil Minister's son Kang In-Woo, both were best friends and who also had a crush on her. She was also at one point promised to either one of them... her mother the Queen was still deciding on it when all the trouble and attempted murder happened...
And from what I see, the betrayal of the Grand Prince Prince Yeongchang and Princess Jeongmyeong was done by the people around him who wanted him in power without his knowledge. He was devastated when he could not find Princess Jeongmyeong when he found out she was in trouble...
And yes, Princess Jeongmyeong ended up in Japan and was taken as a slave, only managing to survive to Ja Gyung's help. Ja Gyung was a fellow Joseon who supervised the slaves but he somehow took a liking to her and protected her even when the Japanese who owned them wanted to sell her off as a prostitute or so. It was him who named her "Hwayi"
One day, when she found out some traders from Joseon were coming to Edo to purchase some of the sulfur, she begged and eventually got to go there at the risk of being found. However, she got to meet Hong Joo -Won who was there on behalf of King Gwanghae, who wanted to build a fire-arms department. Eventually she manage to convince Hong Joo-Won who could not recognize her to bring her back to Joseon and hire her.
It was Kang In-Woo who realized she was a woman first....and who eventually added 1 plus 1 and realized she was the princess... It made her even more desirable to him and he eventually became his best friend's rival and try to get the princess whatever way he could including colluding with his power hungry father....
When King Gwanghae found out Hwayi was actually his beloved little half sister, he sadly accepted her hatred but did his best to protect her. I found that to be really so sad and touching. How he loved his sister so much but it was so sad when she was the one misunderstanding and thinking he was the one who had her brother killed and her almost killed...
He eventually sacrificed so much for her and his people and Hwayi / Princess Jeongmyeong finally realized the type of King her half brother was and somehow began standing for him and supporting him...even when it meant going against the wishes of her own mother...
There was the part King Gwanghae almost gave up his throne just to bring all his men and sister back safely from the war he was forced into by his people between the Ming and the Qing, and also the part he almost sacrificed his dignity to try bring back Hong Joo-Won who had been captured because he did not want his half sister to be sad or lose anymore of her loved ones.... and in return, she almost struck a deal to marry Kang In -Woo for his father's assistance to help her brother stay on the throne, only to have King Gwanghae cancelling it at the last moment in front of all ministers when Minister Kang was looking smug...
Somehow in the fracas, her other hero, Ja Gyung also arrives in Joseon and decides to be her bodyguard while watching the Princess and her two beaus....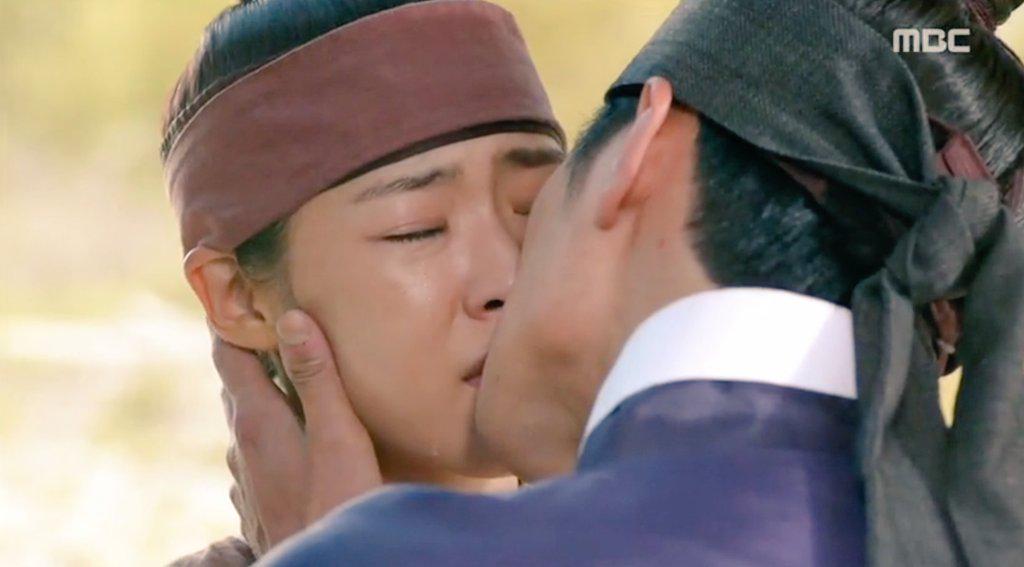 There is a long way to go still and I am definitely hooked on this drama......I will update the story here if and when I am able and can remember....