Ireland is one of my most favourite countries in the world. I find it magical, mystical and mesmerizing. I love the Celtic influences and all the medieval and somewhat mystical like places like fourknocks passage tombs, newgrange , etc...etc. And it is where mystical stories of Tuatha de Danann and Leprechauns began...
I've been to Ireland twice already. Once when I was but 9 years old, and the other time , when I was about 23 or 24. I have stayed there for a couple of months but it is soooo not enough. In fact, once upon a time I had hoped to marry an Irish guy and live there but well, God has other plans for me... I hope someday I will return to see it again.
I really loved all the ruins and also old abbeys, tombs and such, being a big historical and also mythology fan...Truly fascinating..
To my friends who are visiting Ireland sometime, do make sure you see all these sights!!!!
Me at the Slane Abbey.. pictures are all grainy here as taken by normal film camera and I retook the photo via mobile....
Slane Abbey (pic credit to Steve Plass on Flickr)
Slane Abbey. Love the ruins where one can climb and explore. I was went up the tower there. The steps were just sooo narrow and dark. Really am amazed how people lived in medieval times...
These here are the historic ruins of
Monasterboice
which are supposedly from the time of early Christian settlement in
County Louth
in
Ireland
.
It was founded by Saint Buithe, supposedly St Patrick's follwer, who died around 521.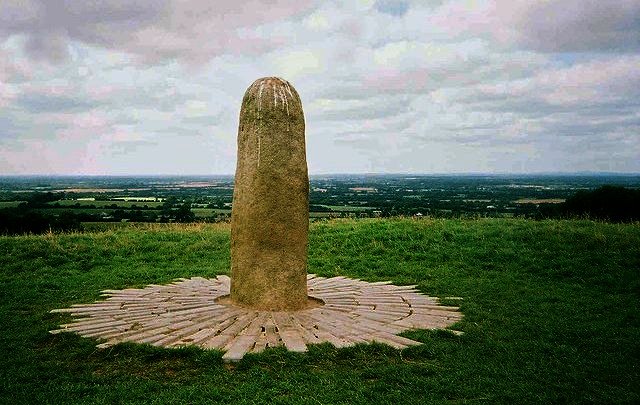 Lia Fail (pic credit to Cursuswalker)
The Lia Fail or Stone of Destiny which can be found on the Hill of Tara, co Meath.

The Lia Fáil was thought to be

magical

: when the rightful

High King of Ireland

put his feet on it, the stone was said to roar in joy. Obviously I am no king as the stone just kept silent as I touch it.. sighhh.... can't blame a girl for trying.... huhuhu
The stone is also credited with the power to

rejuvenate

the king and also to endow him with a long reign.
Mound of the Hostages tomb on the Hill of Tara..
The Mound of the Hostages (Duma na nGiall), is the oldest visible monument on the Hill of Tara. The mound covers a passage tomb built 5,000 years ago (around 3,000 BC).
I may sound mad but all these truly excites me. There are times I wish I can walk back into the past and see how these people lived...
Anyway this place was used to bury human remains for more than 1,500 years. The mound lies near the northern edge of a large enclosure called Ráith na Ríg (Fort of the Kings) which was built around 100 BC.
The Mound of the Hostages got it name in the medieval period because it was the place where the symbolic exchange of hostages took place.
Me inside the Fourknocks passage tomb
Four Knocks passage tomb- built between 3000 -2500 BC!!!!
The Four Knocks passage tomb is decorated with abstract art and bear the first depiction of a human face found in prehistoric art in Ireland. The contents of this tomb were intact dated back to the megalithic period in Ireland. Truly amazing don't you think?
The contents found were of great importance with fragmentary human remains representing dozens of bodies of all ages and sexes. These were accompanied by grave offerings (stone beads and miniature hammer pendants, bone pins etc.) in the three side chambers.
Four Knocks is a Passage Chamber Tomb believed to be built about 5000 years ago. It is located 10 miles southeast of Newgrange between Ardcath in County Meath and the Naul in County Dublin. The name Fourknocks may be from the Irish Fuair Cnocs meaning Cold Hills.
Situated in County Clare and bordering the Burren Area, the Cliffs of Moher are one of Ireland's most spectacular sights.

Standing 230 metres above the ground at their highest point and 8km long, the Cliffs boast one of the most amazing views in Ireland. On a clear day, the

Aran Islands

are visible in Galway Bay as well as the valleys and hills of

Connemara

.
Inis Mor view (pic credit to traveldepartment.co.uk)
The beautiful Aran Islands, the "Islands of Saints and Scholars" is located just off Galway, about an hour boat's ride...
Scattered with celtic churches of historical importance , the spectacular Dun Aonghasa and Cliffs of Aran, home of the Aran Sweater, and total release from the hussle and bustle of the mainland.
The island of Inis Mór (Inishmore) meaning the big island, is one of the most popular tourist destinations in Ireland. Well known internationally, it is steeped in history and resembles an outdoor museum with over 50 different monuments of Christian, pre Christian and Celtic mythological heritage.
There isn't far you can go before being somewhere where there's something of historical interest and little reason to question its importance in modern Irish Culture. I did not have enough time to explore everything... back then but what I saw made me so blessed to have set foot there.
The famous Trinity College in the heart of Dublin. It's where the book of Kells are kept.
Grafton street... Shopping!!!! All the high street labels and best stores are here... When I was there in Dublin, nothing made me happier then to walk along these street, popping into a store or an internet cafe, or Marks and Spencer to find something...
a quiet street in Dublin...