Macau Government Tourist Office (MGTO)
and
Nuffnang Malaysia
are holding a contest for us Nuffnangers to write on why we would like to
visit Macau and why they should send us on an all-expense paid trip to Macau!
I have never been to Macau before and it is on my bucket list to visit this fascinating country sometime in the future and I wonder if I could be the lucky winner in this contest .
Chances are slim a
s I know there
are plenty of fabulous bloggers around and some really professional ones, but
, well, I am not one to let an opportunity go, so never try, never know right... maybe it could be my heaven sent opportunity to visit Macau sooner then I think... but ah well, we will see about that....
Ok.. first task.....
Three Most Amazing Things
that makes me wa
nt to visit Macau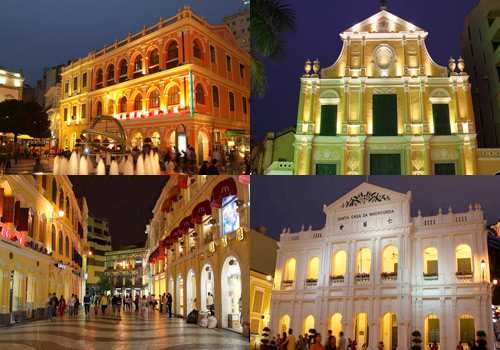 Ruins of St Pauls
With over 20 historical monuments and square
, the historic district called
"The Historic Centre of Macau" is listed on the World Heritage List in 2005 is definitely the topmost amazing thing that makes me want to visit Macau as I am a huge fan of ancient relics and historical
sites.
It would definitely be another cross off my bucket list of things to do before I die. I find the combination of Eastern and Western cultures as depicted so clearly here at this site of utmost fascination to me and I certainly would love to have the opportunity to learn about the history and stories behind these fascinating heritage site as well as take plenty of pictures and blog about it.....
Places like the Ruins of St Pauls, St Anthony's Church, Mount Fortress, Guia Fortress, Casa Garden and all would be a dream come true if I got to visit them.
DreamWorks Experience at the Cotai Strip Resort in colors
Another fascinating and amazing thing I must do if I am in Mac
au is to visit the DreamWorks Experience at the Cotai Strip Resort. I am a huge kid at heart and it would definitely be amazing to be able to be able to meet and greet or mingle with all the DreamWorks famous characters from Shrek, Madagascar, How to Train your Dragon, Kung Fu Panda and all!!!
It's really going to be so much fun doing all that....!!!!
The most amazing water show
The third amazing thing or place I have to visit is the House of Dancing Water. I read that the
show is staged in the purpose-built Dancing Water Theater which has about 2
,000 seats and is designed by world renowned Sandi Pei. It is a must- see experience many people who have gone to Macau swear by.
The Dancing Water theater is designed with many breakthroughs including a stage pool that holds a record-breaking 3.7 million gallons of water, equivalent to 5 Olympic-sized swimming pools. Amazing, yes or YES?!!
This state-of-the-art theater provides the setting for an epic love story and spectacular journey through time, showcasing dazzling costumes, special effects and record breaking acts never seen before in any normal theater.
I am truly mesmerized even at the thought of it.
Second task..... or question....
Why Nuffnang should send me for this superb opportunity
Macau Almond Cookies
Portuguese Egg Tart
Portuguese Western/ Chinese celebrations, Dancing Water and DreamWorks Experience are my 3 amazing selection,
with deliciously unique
Macanese cuisine and so much more to see and do
, Macau is surely
my dream
holiday destination,
Nuffnang as the World's leading Blog Advertising company is sheer dedication ,
along with
Macau Government Tourism Office which offers the best
travel
information,
Both
can help
widen my travel blogging
horizons,
and send me on this unforgettable
dream
vacation ....
Now... if only I can be selected I can be in the 'write' (right) direction filled with elation....
Some Macanese dishes
Thanks in advance for this amazing contest opportunity to
Macau Government Tourist Office (MGTO)
and
Nuffnang Malaysia .
Visit Macau Government Tourist Office
Facebook Page
for loads of info on beautiful Macau
Photo credits to Google, and MGTO
Signing off,