It's many people's dream to travel the world but unfortunately, it is not cheap travelling. So, what if you can work and travel at the same time? Not all of us can be a travel presenter or a travel blogger.
It will take you places while covering your daily expenses in the form of little job opportunities here and there. It's called the Work and Holiday Visa (Australia) and the

Malaysia Working Holiday Scheme

(New Zealand).
Photo: toothbrushnomads.com
Currently the only places that are offering a working holiday visas to Malaysian passport holders are Australia and New Zealand.
Be between the ages of 18 to 30 years old (sighhh... that makes me too old LOL)

Possess a valid passport

Not bring children with you

Hold a return ticket or have sufficient funds to purchase a ticket

Have sufficient funds for the initial living costs

Meet their health and character requirements
One of the conditions for this visa is that you can't be employed by the same employer for more than six months. So that means no office jobs. More like…
From apples to strawberries to kiwis, depending on the season you'll be in when you arrive, there are plenty of jobs for you to help out at in the horticultural industry. You might even get to snack on them after!
If tons of snow, skiing and snowboarding sounds like your perfect holiday, this is the place to have fun AND earn your keep. Of course, your work tasks won't all be outdoors so expect some housekeeping chores. Just be sure to start applying a few months before ski season.
Time to put the waitressing lessons you got from Penny (Big Bang Theory) or Kat Dennings (2 Broke Girls) – or maybe not. But either way, work as waitresses, kitchen helpers or restaurant staff is relatively easy to find. Just look through the local papers or walk-in.
Or motels/hostels. Either way, the jobs here are similar to those of a restaurant's or ski resort's – the only extra advantage is that they usually provide accommodation as well with the job.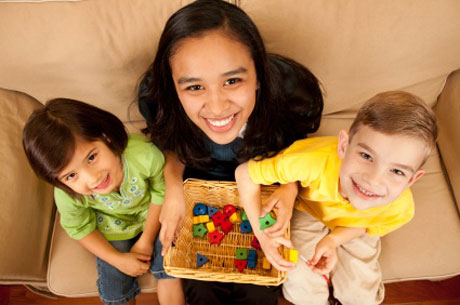 If you love working with children, this is THE job for you! Besides taking care of children, you'll get accommodation matters settled as you'll be staying with a host family!
Psst… you can try to apply to be an Au Pair in the USA too! Get the details at www.aupaircare.com.
If you've worked part-time as a retail staff during your college years, this should be easy peasy for you! They're the perfect kind of work to sign up for when you first arrive and need time settling down.
Of course, there are other types of jobs you can apply for but this is just to give you a general idea. It's also pretty easy to find work; just Google for the respective country's job sites and there'll be a whole list of short-term and casual jobs you can apply for.
Interested? For more info, you can head over to:
*The NZ Malaysia Working Holiday Scheme only allocates about 1,150 places each year and the applications for the 2015/2016 quota will open in January 2015 so be sure to watch those dates!
pictures taken from google.com