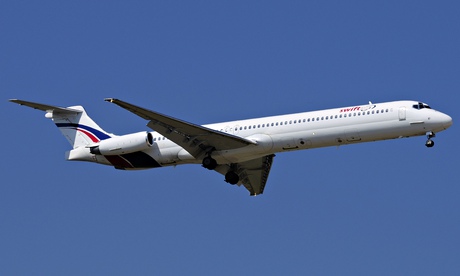 Flight AH5017 operated by Air Algérie carrying 116 people from Burkina Faso to Algeria disappeared from radar during a sandstorm early on Thursday, and then reported to have crashed

, reportedly in Niger
Initial reports of the crash were confirmed by Algerian aviation authorities.
"I can confirm that it has crashed,"
an anonymous official told Reuters. While details of the whereabouts of the plane remain unclear, early reports from the CCTV network and Algerian TV suggested that it went down in Niger.
Air traffic controllers lost contact with the Swiftair-owned MD-83 about 50 minutes after takeoff at 1.17am local time (0117GMT). The news was not made public until several hours after the flight's scheduled 5.10am arrival in Algiers, by which time officials from Algeria, Burkina Faso and France – which had 50 nationals aboard – issued conflicting details.
The flight path of the plane from Burkina Faso's capital, Ouagadougou, was not immediately clear. The city is in a nearly straight line south of Algiers, passing over Mali, where unrest continues. Rebels who have seized the northern fringe of Mali do not have weapons capable of bringing down a commercial jet at cruising altitude, a Malian official told the Guardian. "What they have is shoulder-fired weapons, and rocket-propelled grenades."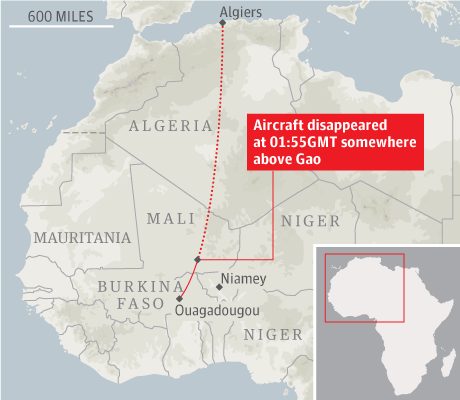 The flight had asked to change route at 1.38am because of a storm, Burkina Faso's transport authorities said. Powerful sandstorms are frequent throughout the Sahara's northern belt around this time of the year. Aviation officials in Burkina said they handed the flight to a control tower in Niger's capital, Niamey, at 1.38am, and that last contact was about 4.30am. That contradicted an Algerian aviation official, who said the last contact was at 0155 GMT when the plane was flying over Gao, Mali.
Whatever the cause, another plane crash is likely to add to nerves in the industry after a Malaysia Airlines plane was downed over Ukraine last week, a TransAsia Airways crashed off Taiwan during a thunderstorm on Wednesday and airlines cancelled flights into Tel Aviv due to the conflict in Gaza.
A crisis unit has been set up in Ouagadougou airport. The flight manifest

consist of some 50 French nationals were traveling on the route. Additionally, there were 24 Burkinabe, eight Lebanese, four Algerians, two from Luxembourg, one Belgian, one Swiss, one Nigerian, one Cameroonian, one Ukrainian and one Romanian.
The Algerian Ministry of Defense has not ruled out the possibility of a terrorist attack, reported Al Arabiya.
French President Francois Hollande has postponed a trip to the island of La Reunion, east of Madagascar, by two hours because of the plane crash.
What is happening to our world or our skies? Planes seem to be falling from the skies at an alarming rate like flies this week/month. God please bless our world and save us from all this catastrophe...