I last saw Lin Gengxin in Bu Bu Jing Xin aka Scarlet Heart as the dashing 14th Prince who married Rouxi to give her a way out when her relationship with his brother, the 4th Prince, then the Emperor Yin Zheng became too much for her to handle.
He is back on local TV as the dashing Burmese
Prince Shwenandaw, acting alongside Ringo Yu who was the heartless Kung Fu Master keen on breaking Jayden Smith's Xiao Dre character. And oh... he happens to be the producer/director of this drama too...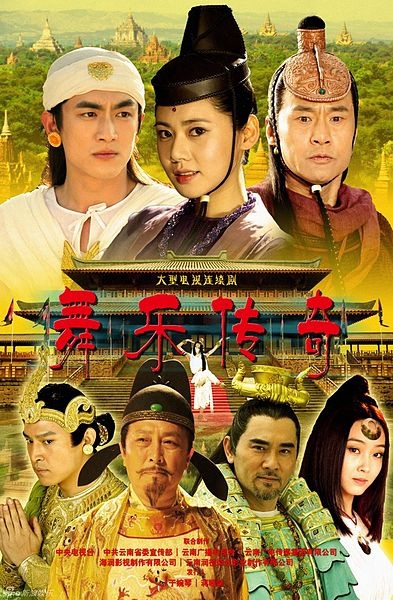 Based on historical events that occurred in the Tang Dynasty (618-907),
Legend of the Prince
or also known as
Legend of the Dance
brings to life the story of the attempt of the prince of Myanmar, to lead an orchestral group to pay tribute to the emperor in the Tang Dynasty capital of Chang'an and establish cultural communication with the Tang in spite of the numerous challenges he faces.
The prince and his retinue's long journey is like a reverse
Journey to the West
, in which the group has to travel an enormous distance eastward to reach Chang'an. Though a simple cultural event on the surface, the journey becomes a cluster of taut stories, involving plenty of schemes and secrets. Different forces try to hinder the journey for unspeakable purposes and various fights unfold along the way, even the prince's companions all have their secrets.
Legend
seems like a shallow Chinese historical soap-opera when you look at its title, shining costumes and showy exterior shots that look like some form of scenic propaganda. However, going deep into the show will reverse your first impression and in the end finally amaze you.
Directed by veteran actor Ringo Yu,
Legend of the Prince
boasts complicated plots, tight reasoning, superb acting and refined production. As the first domestic TV drama made in cooperation with Myanmar, the drama captures the real life locations along the group's journey from Myanmar, Ruili to Chang'an (now Xi'an), making the scenery in the drama itself a selling point.
The show is also regarded as respecting history. Jiang Xiaorong, producer of the drama, explained at a seminar that everything, from the selection of sets and costumes to the dances performed in the show, was finished with the help of local inheritors of Myanmar's intangible cultural heritage in an attempt to present an authentic look when it came to history and culture.
Pretty cool, different from all the Qin Dynasty stories I am hooked on and I'd be definitely watching.
Check it out every weekday at 7pm over at Astro Quan Jia channel 308
From Left: Choo Ja-hyun, Lin Gengxin and Xuan Lu
Check out my short recapping on the series:
http://mieranadhirah.blogspot.com/2014/08/legend-of-prince-short-recapping.html