Pihak Blooggers Media sedang menjalankan satu cabaran untuk blogger- blogger yang berminat untuk menyertai Trip ke Busan, Korea bersama Man Raja Lawak. Ada dua cabaran... yang pertama itu: "Cabaran Winter In Busan Blooggers Majalah Libur - Task 1" yang bertajuk "Apa yang menarik di Busan".





Phew. Teringin benar Miera nak jejak kaki di bumi Korea ini kerana belum pernah berpeluang. Adakan ini peluangnya? Kita akan melihat kemudian....




Busan merupakan bandar kedua terbesar di Korea Selatan selepas Seoul. Busan adalah bandar yang amat menarik untuk semua golongan pelancong, sama ada untuk kerja, melancong, berbulan madu, dan sebagainya.

Antara yang amat menarik perhatian pelancong adalah pantai yang berpasir putih dengan panorama yang memukau, bersertakan suasana yang cukup menyenangkan.

Setiap tahun Busan juga menjadi tuan rumah untuk acara bunga api antarabangsa jan juga acara Pesta filem antarabangsa Busan /festival film internasional Busan


Ini adalah antara 8 tempat yang kita harus kunjungi apabila melawat Busan.


1. Pantai Haeundae

Pantai Haeundae adalah pantai terbesar di Korea- panjangnya 1.5 km, dan memang terkenal dengan pelancong asing sepanjang tahun. Haeundae dalam bahasa Korea bermaksud "laut dan awan", namanya diberikan oleh seorang pelajar dari Dinasti Silla.

Pantai Haeundae ini akan dipenuhi pelancong terutamanya dalam bulan Jun hingga Ogos, semasa musim panas. Pelbagai acara kebudayaan dan festival dilakukan disini sepanjang tahun untuk menggalakkan pelancong datang ke pantai ini. Aktiviti yang sering dilakukan disini adalah aktiviti jet ski, luncur air dan sebagainya.


Pantai Haeundae waktu musim sejuk

Pantai Haeundae

Akuarium Busan yang terbesar di Korea juga terdapat disini, ia terletak di pinggir pantai Haeundae, dan merupakan rumah kepada 50,000 ikan. Ia juga mengadakan kelas menyelam bersama jerung untuk mereka yang tidak tahu penyelam (bukan penyelam) untuk membolehkan mereka datang dengan menghampiri kehidupan marin sedekat yang mungkin. Sesiapa yang berminat untuk memberi makan ikan boleh menaiki bot yang kini agak popular.
Aquarium Busan
2. Gwangwan Bridge/ Diamond Bridge
Panjang Jambatan Gwangwan atau Gwangwan Bridge ialah 7.42km . Ia menyambungkan Haeundae-gu dengan Suyeong-gu. Apabila kita melalui Jambatan Gwangan pada hari yang cerah, destinasi pelancongan indah seperti Pulau Oryukdo (sebuah pulau batu), Mt. Hwangryeong, Pantai Gwanganri, dan Bukit Dalmaji boleh kelihatan. Pada waktu malam, lampu yang dipasang di Jambatan Gwamgwan ini seumpama berlian dalam kegelapan malam.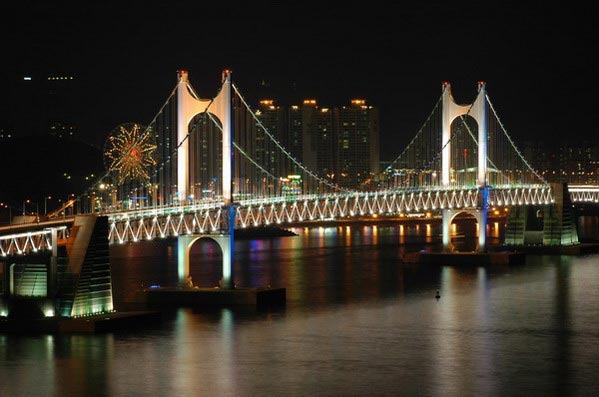 Jambatan Gwangwan
3. Beomeosa Temple
Kuil ini berusia 1,300 tahun dan ia melambangkan Busan, Kuil Beomeosa di atas Gunung Geumjeong ialah kuil terbesar dan paling bersejarah di Busan.
Menurut legenda Korea air kuil dikatakan mempunyai sifat-sifat yang ajaib. Air kuil ini datangnya dari mata air gunung yang sangat sihat.
Kuil itu diasaskan pada 678 TM tetapi sebahagian daripada kuil asal telah dimusnahkan oleh serangan Jepun 1592-1593.


Kuil Beomeosa


4. Taejongdae


Taejongdae adalah sebuah taman yang melambangkan Busan, terkenal kerana pantai yang berbatu di Selatan hujung Pulau Yongdo . Terdapat sebuah batu yang dikenali sabagai batu "Shinsun" yang dijadikan daripada pukulan ombak. Dari sini, pada hari yang cerah, anda mungkin boleh melihat pulau Tsushima Jepun yang berada 56 km daripada Taejongdae


Anda juga harus melawat rumah api Yeongdo yang bergelar MOKDO untuk melihat permandangan laut biru kehijauan dari dek observasinya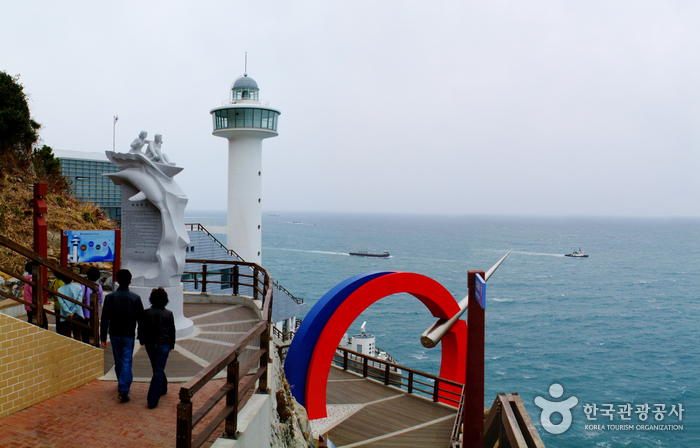 Rumah Api Yeongdo , Taejongdae

5. Dadaepo Sunset Fountain of Dream

Ini adalah air pancutan terbesar di dunia, Dadaepo Sunset Fountain of Dream. Ia siap dibina dalam bulan Jun 2009 dan kini menjadi destinasi pelancongan terkenal di Dadaepo. Luas air pancut ini 2,519 meter persegi. Dadaepo Sunset Fountain of Dream boleh memancut air ke udara setinggi 55 meters 1,046 nozzles. Air pancutan ini mempunyai 27 lagi air pancutan yang lebih kecil dan 1,148 lampu LED yang memberikan pertunjukan air dan lampu yang amat menarik di pantai Dadaepo setiap malam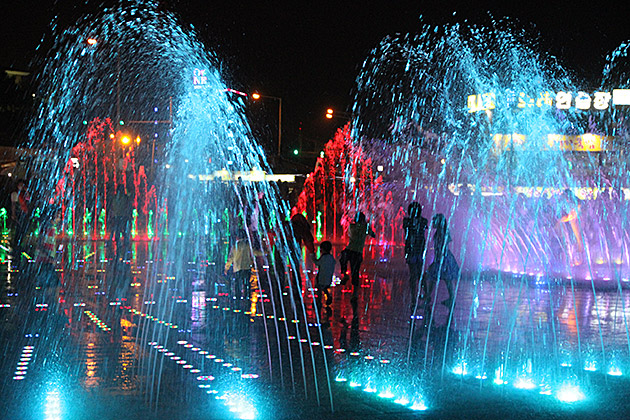 Dadaepo Sunset Fountain of Dream


6. Busan Cinema Center

Busan Cinema Center adalan tempat rasmi Busan International Film Festival (BIFF). BIFF sudahpun menjadi salah sebuah pesta filem terkenal di Asia.
Rekabentuk bangunan ini memang unik dan mengagumkan. 'Big Roof' (bumbung besar) nya mengandungi 42,600 lampu LED yang menghasilkan keindahan di waktu malam yang akan menarik pandangan setiap orang yang berhampiran
Terdapat 3 bangunan berasingan untuk tujuan berbeza: Cine Mountain,adalan tempat konsert dan panggung , BIFF Hill di gunakan untuk pesta atau majlis lain dan Double Cone yang berda di tengah menyambungkan Cine Mountain dan BIFF Hill . Di Double Cone, pelbagai bar, restoran dan kafe boleh di temui. Pengunjung boleh menonton wayang di panggung di sini dengan harga yang murah setiap hari.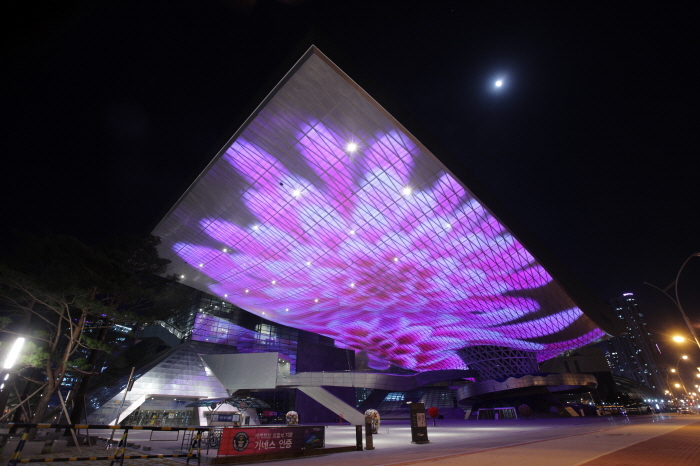 Busan Cinema Center


7. Busan Shinsegae Centum City

Shinsegae Centum City sudahpun diiktirafkan sebagai pusat beli belah terbesar di dunia di Guinness Book of Records. Terdapat tempat Spa yang indah di dalam Shinsegae Centum City ini bersama dengan ice skating rink, panggung wayang, dan juga driving range golf terbesar dalam bangunan.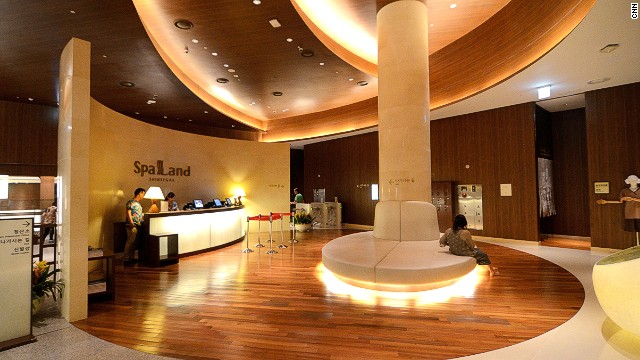 Busan Shinsegae Department Store


8. Jagalchi Market

Jagalchi Market adalah pasar hasil laut terbesar di Korea. Kalau terdengar Jagalchi Ajumma (makcik) yang berkerja di Jagalchi market menjerit "Oiso, boiso, saiso!", jangan terperanjat. Mereka sedang memanggil penunjung untuk "Datang, lihat dan beli!" hasil laut segar mereka dalam bahasa Busan.
Beribu-ribu gerai dengan bertan-tan ikan dijual dan dibeli setiap hari, menjadikannya antara tempat paling menarik untuk dikunjungi di Busan. Anda boleh meminta supaya hasil laut yang anda pilih dibersihkan dan dimasak di situ juga, atau disediakan mentah untuk dimakan sebagai sashimi.. menarik kan???


Pasar Jagalchi , Busan


Jika anda berada di Busan, anda tidak boleh ketinggalan menikmati hasil laut di pasar Jagalchi itu. Para pelancong memilih Busan kerana terdapat hasil laut yang enaknya, aktiviti sukan air dan juga permandangan yang tiada bandingannya.
Selain dari itu, Milmyeon(mee sup) dan ikan bakar adalah makanan yang terkenal di Busan. Ddeokbboki yang pedas dan pajeon makanan laut(penkek Korea), sup tauhu, bubur kacang merah dan inseolmi(kek beras) juga terkenal dan mungkin tidak akan dijumpai di daerah lain Korea. Makanan-makanan tersebut membuatkan pelancong merindui Busan walaupun sudah pulang ke negara asal.

Pajeon
Miera amat harap Miera dapat di pilih untuk pergi... seronok betul kalau dapat melihat permandangan -permandangan hebat semua di atas dengan mata sendiri kannnn..... dan menikmati musim sejuk di bumi Korea ini... Insya Allah kalau ada rezeki Miera....
Gambar-gambar di atas semuanya di ambil dari google.com . Kalau Miera dipilih, nanti bolehlah saksikan gambar yang Miera ambil sendiri.. ;-P

Untuk maklumat lebih lanjut sila ke : http://www.busan.go.kr
Atau layari Majalah Libur untuk mendapat lebih banyak informasi tentang destinasi pilihan anda.

Dan... jika anda seorang blogger, jangan lupa mengikuti Blooggers media untuk pelbagai aktiviti menarik



Sekian.......terima kasih