Do you live in fear of being robbed? As the end of year approaches and you finalize your travel plans, there has never been a better way to safe-guard your personal belongings and homes.
Did you know that we are at risk everyday,whether we are at home or out of our home?
In 2013, Bukit Aman branch of the Royal Malaysian Police officially
revealed these shocking facts.
There are 17, 470 cases of break-ins and burglary that happens and 33, 197 robberies and snatch theft reported.
It is a very worrying figure and a lot of people I know, myself incl
uded have been one of this statistic.
This are my stories.
pic via thejournal.ie
When I was a teenager with my best friend, a school mate as well, I was staying over at my friend's home and we were going to the St Anne's church back then for St Anne's feast. Both of us were at the bus stop when two older youths appeared. We thought nothing of it until they approached us with knives brandished. My friend lost her gold necklace and money and I lost my money too... which wasn't much, just about RM100 altogether...but we were both shocked and terrified by the experience.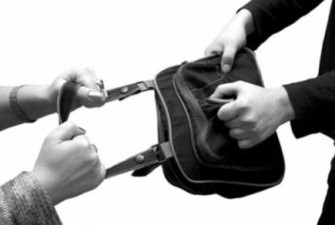 pic via nagpurtoday.in
Then another time, y
ours truly had just finished work at about 8 pm
a few years ago when she was still working and was talking to a colleague on the phone, minding my own business and walking at the side of the road with my handbag held away from the main road , but some how a motorcycle with two men came and brushed pass me on my left and grabbed my bag.
I was left stunned with only my mobile phone and nothing else. I guess I was fortunate that I wasn't harmed , like some of the other victims but nevertheless, I lost my money which was like 2/3 of my salary as I was deciding to pay my land lady and some bills as well as my identification card and everything else.
Here I am trying to share "5 ways to protect yourself from theft"
pic via homesecurityguidesite.com
1.

Don't make your home an easy mark for burglars. Take simple steps to keep your home secure:

Keep the doors locked at all times. Whether you are at home or leaving the house to run a quick errand, it's a good practice to keep doors locked. Frequently walk around your house, and look for easy ways for intruders to gain entry. Opportunity and access can make your home a target. Buy timers that automatically switch lamps and radios on and off when you're not at home. Install a motion detector light at entryways. At night, the lights will go on when you arrive home, or if someone walks up to your house. When you move into a new home, have the locks changed immediately. Get a deadbolt lock system. Your installer will provide a lock system for all doors that use the same key. Avoid giving copies of your house keys to service providers, such as housekeepers or anyone. There has been cases of security guards stealing the employers valuables when the employer was not around.
Trim overgrown trees and shrubs around your house that may shield an intruder from view. It's never a good idea to allow a stranger into your home, whether the person is asking you to sign a petition or offering to trim your trees. The person may be trying to "case" your home and return later to steal valuables. If you are going on vacation, make sure you stop newspaper and mail delivery, or ask a trusted neighbor to collect the items, so they do not pile up at your house.
Pic via wessexscene.co.uk
2.
Try to make it a point not to

walk or jog early in the morning or late at night when the streets are deserted. If you have to, do it in a group or where you know there are many people around.

When out at night, try to have a couple of

friends

walk with you. Never be alone or with just another female friend. You or both of you could be victims. Criminals or robbers tend to try to target single females or a pair of females.

Carry only the money you'll need on a particular day when going out.

Don't display your cash or any other inviting targets such as pagers, cell phones, hand-held electronic games, or expensive jewelry and clothing.

If you think someone is following you, switch directions or cross the street. If the person continues to follow you, move quickly toward an open store or restaurant or a lighted house. Don't be afraid to yell for help.

Try to park in well-lighted areas with good visibility and close to walkways, stores, and people.

Make sure you have your key out as you approach your door whether it is at home or even at your car.
Pic via google
3.
Suspecting criminals watch for routine in a potential victim's lifestyle. The more information they have about the victim, the better. Try to not arrive at home or leave for work at exactly the same time every day. People who live by time frames and strict routines are at risk of being victims of crime. Being overly controlling of your environment is not going to protect you from this possible risk. Everything in balance is the key.
Pic via google
4. Start joining or organising a rukun tetangga or a
neighbour-hood watch
.
Many places in Malaysia now have their own rukun tetangga or
neighbour-hood watches or resort to protecting their communities by fencing off certain residential streets and appointing a guard to man a boom gate entrance point for these areas.
All these things are not fool-proof, but serve as deterrents. Thieves will often rather bother the suburb next door that doesn't have these little inconveniences.
pic via AIG
5. Protect yourself from potential losses as a result of senseless crime and theft with AIG Malaysia's Theft Protect – a brand new two-in-one theft protection policy both in and out of home.
AIG Malaysia has
introduced an insurance policy designed to provide coverage against loss or damage to household goods and personal valuables. The Theft Protect policy covers effects and loss of cash as a result of burglary, snatch theft or robbery and accidental death and disablement resulting from any accidents.
Personal safety is important for everyone. Theft Protect is designed to be accessible, with three easy and affordable plans to choose from. Starting from only RM0.83 per day, Theft Protect is unique in offering two-in-one protection so there's no need to purchase separate policies. Plus it covers you all day every day!!
The policy offers
a more comprehensive coverage than other plans currently available. In the case of snatch theft and burglary, policy holders do not need to declare household items, personal items or valuables before purchasing. In addition, the plan also covers accidental death and disablement arising from any accident.
The plan is applicable for individuals aged 18 to 65 years, and renewable up to 70 years of age. The available plans come with fixed monthly premiums, ranging from RM25 to RM72, with benefits from RM140, 000 up to RM400, 000.
For more details, please visit
AIG website
https://www.facebook.com/AIGMY