Soldiers carry a coffin with the remains of a Malaysian victim from the Malaysia Airlines flight MH17 that crashed in Ukraine during a ceremony at the Bunga Raya complex at Kuala Lumpur International Airport
The plane carrying the first 20 remains of the 43 Malaysians killed in the MH17 disaster returned to KLIA to a sombre reception on a national day of mourning.
The special Malaysia Airlines flight from Amsterdam landed at about 10am local time.
The 17 coffins and 3 urns were carefully unloaded from the plane by waiting Malaysian Royal Army in ceremonial uniforms into special white hearses in full ceremony.
The white hearses bearing the remains were then driven past Yang di-Pertuan Agong Tuanku Abdul Halim Mu'adzam Shah soon after two minutes of silence at 10.55am.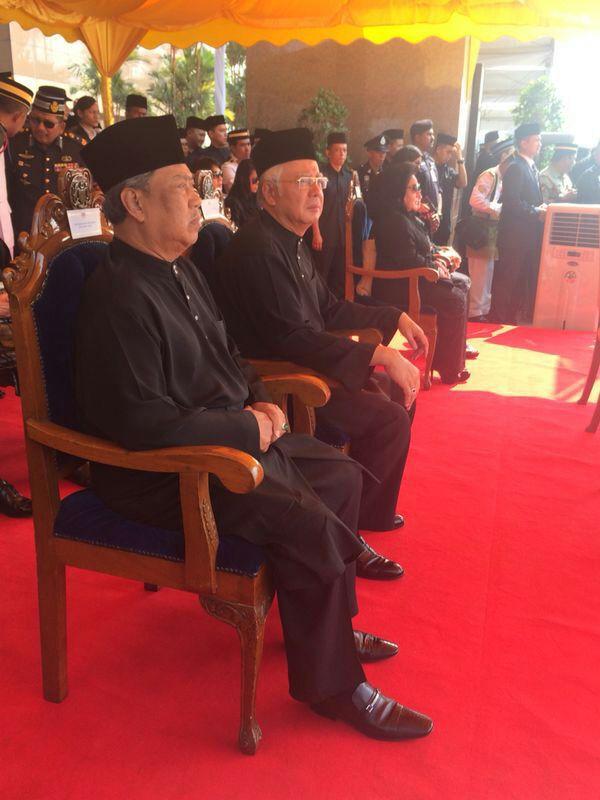 Prime Minister Dato Seri Najib Razak & Deputy Prime Minister Tan Sri Muhiyiddin Yasin
in a solemn mood at the receiving ceremony
The vehicles headed in different directions, with 13 heading to the cemeteries decided on by the families.
Some of the relatives of some of the victims
Two Royal Malaysian Air Force C-130 Hercules aircraft will fly the remains of two victims to the Kuching International Airport, Sarawak and the remains of three others to the Sultan Azlan Shah Airport in Ipoh, while EC724 helicopters will fly the remains of two more victims to Pagoh and Segamat in Johor.
The government asked the nation of 28 million people to observe a couple of minutes of silence and prayer, while flags nationwide were lowered to half-mast.
Authorities had earlier asked citizens of the Muslim-majority country to refrain from festive activities and don black out of respect for the victims. Passerby in the capital Kuala Lumpur were mostly clad in black to observe the nation day of mourning.
The national day of mourning was the first ever to be held by Malaysia for ordinary citizens. Such observances had previously been held on the deaths of some kings and other leaders.
Malaysia Airlines flight attendants hold white flowers before the arrival of the Malaysian remains
The tragedy intensified the country's disbelief and grief over the troubling and still-unexplained disappearance of Malaysia Airlines flight MH370 four months earlier.
Malaysia said 30 of its citizens on board MH17 had been identified and further remains would return in the coming days to similar ceremony.