1st September:
Title: Youngistaan
Starring : Jackky Bhagnani and Neha Sharma
Youngistaan is essentially a love story set in the backdrop of Indian politics. It is the story of Abhimanyu Kaul & the love of his life, Anwita Chauhan. Abhimanyu Kaul, a young boy living an ordinary life in Japan, finds himself in the political spotlight due to the sudden death of his father, the Prime Minister of India. Travel with Abhimanyu, as he struggles to balance his complicated personal relationships with the political resistance against him from within his own party
Title: DARR @ The Mall
Starring : Jimmy Shergill
Asia's largest mall is ready for inauguration, although there's a myth surrounding the mall. There have been nine accidental deaths in the mall and the owners are sick of the stories about the mall being haunted. So they decide to re-launch their mall in a grand way. This is when the lead hero of the film Jimmy Shergill (Vishnu Sharma) enters. He is an ex-army officer but lends up becoming the chief security officer of the Amity Mall. On the opening eve the owner of the mall, Mr. Manchanda calls a press conference and to dispel the fears announces that he would spend a night at the Mall with the board of directors. Manchanda and his cronies step into the Mall to spend a night and this to Manchanda is a big business strategy. Manchanda and group are not the only ones to be inside the Mall this night. Manchanda's daughter Ahana and her friends make their way inside, as wells as Vishnu, the chief of security at the Mall who has a past that haunts him. Facts come clear only by the end when circumstances throw Vishnu, Manchanda and Ahana together. Their stories connect and lead to a mysterious past
Title: O Teri
Starring : Jimmy Shergill
Prantabh and Anand, associated with a news channel in Delhi, are in search of a big scam to prove a point to their senior. A dead body accidentally lands up in their car.
Title: Dedh Ishqiya (4 Sept @ 9 pm)
Starring : Madhuri Dixit, Arshad Warsi and Naseeruddin Shah
Dedh Ishqiya is a 2014 Indian comedy thriller film. Out from jail, Khalujaan a.k.a Iftekhar (Naseeruddin Shah) and Babban (Arshad Warsi) have stolen a necklace made of royal jewels and are on the run. They part ways and meet at the Majidabad palace, where Iftekhar is competing with Urdu poets to win the heart of the nawab's widow Begum Para (Madhuri Dixit). Her quick-witted and mysterious friend and assistant Munniya (Huma Qureshi) slowly warms up to Babban and they together plot a kidnapping. Khalujaan (Naseeruddin Shah)and Babban (Arshad Warsi), the two romantic thieves are back in Dedh Ishqiya, sequel to the acclaimed and successful Ishqiya with their romantic adventures. And this time love will take them through the SEVEN STAGES OF LOVE... with the beautiful and dangerous Madhuri Dixit as Begum Para and Huma Qureshi as Munniya.
Title: Bhoothnath Returns (11 Sept @ 9pm)
Starring : Amitabh Bachchan amd Boman Irani
Bhoothnath Returns takes Bhoothnath's story forward. As he returns to 'Bhoot World' he is greeted with taunts and condemnation from other ghosts for bringing disrepute to the ghost-community for getting bullied by a kid on Earth. Post the humiliation, Bhoothnath decides to redeem himself and come back to scare a bunch of kids. Bhoothnath's search for kids brings him to Akhrot, a slum kid who is also the only person who can see him. Together they agree to help each other and their friendship sees them get involved in a cause that is bigger than they had ever imagined. To move ahead they will need to take on one of the country's most powerful and corrupt politician Bhau. The Lok Sabha elections are nearing and Bhau's victory is a mere formality, or is it? In a world, where a common man is afraid of politics, will a common man's ghost overcome his fear to stand up for what's right and fight against injustice? Bhoothnath Returns is an entertaining tale of good against evil, weak against powerful, past against future.
Title: Holiday (18 Sept @ 9pm)
Starring : Akshay Kumar and Sonakshi Sinha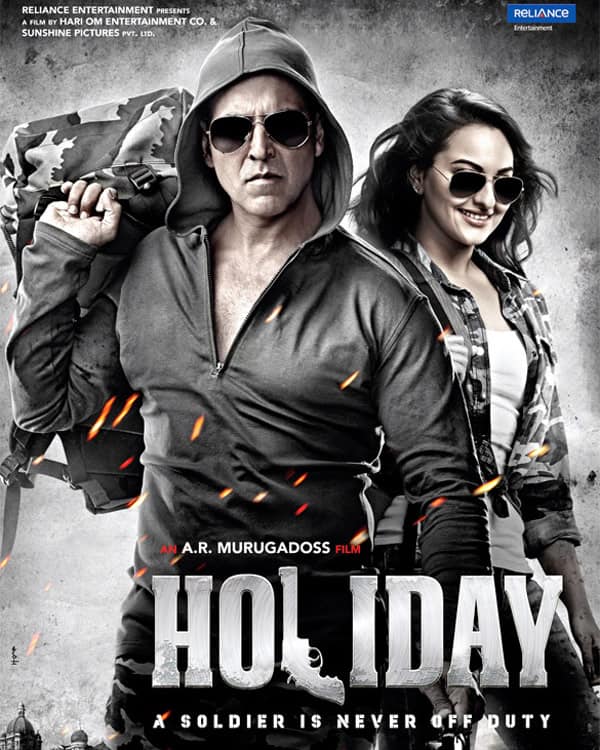 Virat
is among a battalion of military officers that comes to Mumbai on vacation. Virat is also a secret Defence Intelligence Agent who cannot lie low, much to the irritation of his friend and sub inspector. During a bus ride, an attempt to frisk passengers for a lost wallet leads Virat to something much bigger. Within minutes, the bus is blown into pieces and he helps cops nab the carrier of the bomb, who escapes from the hospital only to be caught by Virat again. Using tact, Virat follows one clue at a time hoping to track down the terrorist on whose orders the sleeper cell terrorists plan to cause mayhem in Mumbai.
Title: Queen (25 Sept @ 9pm)
Starring : Kangana Ranaut
Queen is a movie about growing up. Rani (Kangana Ranaut) is a Delhi girl from a conservative family who is ditched by her fiancé just before her marriage. Shocked by this, she decides to set out on the planned honeymoon alone. As she travels the world and meets new people, she gains new experiences and discovers her own identity.